The Definitive List of Vegan Taco Recipes
PETA has featured a number of delicious vegan taco recipes in the past, so we wanted to make a compilation for your convenience. Happy cooking!
Tofu Tacos
1 tsp. olive oil
1 lb. extra-firm tofu, drained, pressed, and cubed
1 Tbsp. taco seasoning
8 tortillas
8 oz. cooked black beans
8 oz. cooked vegetarian refried beans
8 oz. cooked corn
1 cup shredded lettuce
Guacamole, vegan sour cream, vegan cheese, and/or fresh salsa
Heat the oil in a skillet over medium heat. Add the tofu and the taco seasoning and sauté until golden.
Fill the tortillas with the cooked tofu and any other desired fillings (black beans, refried beans, corn, lettuce, etc.).
Makes 4 to 6 servings
Vegan Chorizo and Potato Tacos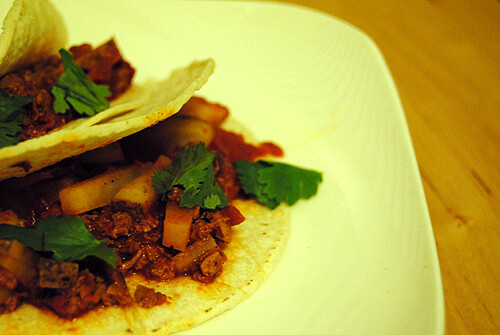 1 Tbsp. vegetable oil
1 pkg. vegan chorizo (we used Soyrizo brand)
1 small white onion, finely chopped
1 tsp. chopped garlic
1 bag frozen diced hash brown potatoes, defrosted (try Ore-Ida brand)
1/2 can (or 4 oz.) puréed tomatoes
12 small corn tortillas
Salt and pepper, to taste
Heat the oil in a large skillet over medium heat and add the vegan chorizo, onion, and garlic. Cook for about 5 minutes, or until the chorizo is slightly crispy and the onions have softened.
Add the diced potatoes and continue cooking, stirring often, until the potatoes begin to brown, about another 5 minutes.
Add the puréed tomatoes, then cover and cook for about 3 to 5 more minutes. Season with salt and pepper.
Top each tortilla with the vegan chorizo and potato mixture and enjoy!
Makes 4 servings
Tempeh Tacos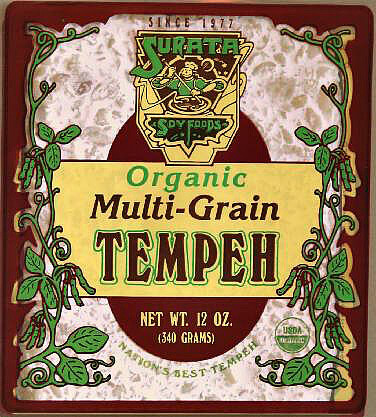 2 Tbsp. olive oil
1 large onion, chopped
12 oz. plain tempeh, crumbled into large pieces (try Surata Soyfoods brand, available at natural-food stores)
1 Tbsp. tamari (natural soy sauce)
1 tsp. ground cumin
12 corn tortillas, wrapped in foil
1/2–1 cup coarsely chopped fresh cilantro
2 cups crisp lettuce (e.g., romaine), washed and shredded
Salsa
In a large skillet, heat the oil and sauté the onion over medium-high heat, stirring often, for about 5 minutes, or until the onion is browned around the edges and fragrant.
Add the tempeh, tamari, and cumin. Reduce the heat to medium and stir until the tempeh is slightly browned, about 3 minutes.
Warm the tortillas in a 350ºF oven until they are soft and pliable. Fold each in half, then spoon in the tempeh mixture and top with the cilantro, lettuce, and salsa. Serve immediately.
Makes 4 to 6 servings
Vegan Chicharrón Tacos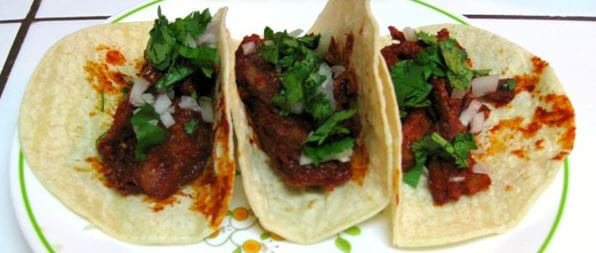 8 large textured soy chunks
3 cloves garlic, cut in half
4 bay leaves
1/8 cup + 1 Tbsp. olive oil
Salt and pepper, to taste
8 tomatillos
1/2 onion, chopped, plus more for garnish
3.5 oz. mirasol chili peppers, de-veined
2–3 tortillas
4 Tbsp. chopped cilantro
4 limes, halved
2 Tbsp. vegetarian bullion powder
Rinse the soy chunks with warm water, then squeeze out the water. Place in a pot with enough water to cover and boil with the bay leaves and 2 cloves of the garlic for 15 minutes. Remove the soy chunks from the pot (discard the garlic and bay leaves) and squeeze out all the water, then cut into smaller pieces.
Fry in a large skillet with 1/8 cup of the olive oil over medium heat for 15 minutes, or until the soy is golden brown. Season with salt and pepper. Remove from the heat and set aside.
Roast the tomatillos and 1/2 onion in a frying pan over medium heat. Transfer to a pot and boil with the chili peppers and remaining garlic in 2 cups of water for 5 minutes. Drain, place in a blender, and liquefy.
Heat the remaining olive oil in a saucepan and add the mixture from the blender. Add the vegetarian bullion powder little by little until the desired flavor is reached. Add the golden brown soy chunks and mix well.
Spoon onto the tortillas and garnish with cilantro, lime juice, and the remaining onions.
Makes 2 to 3 servings
Neat Tacos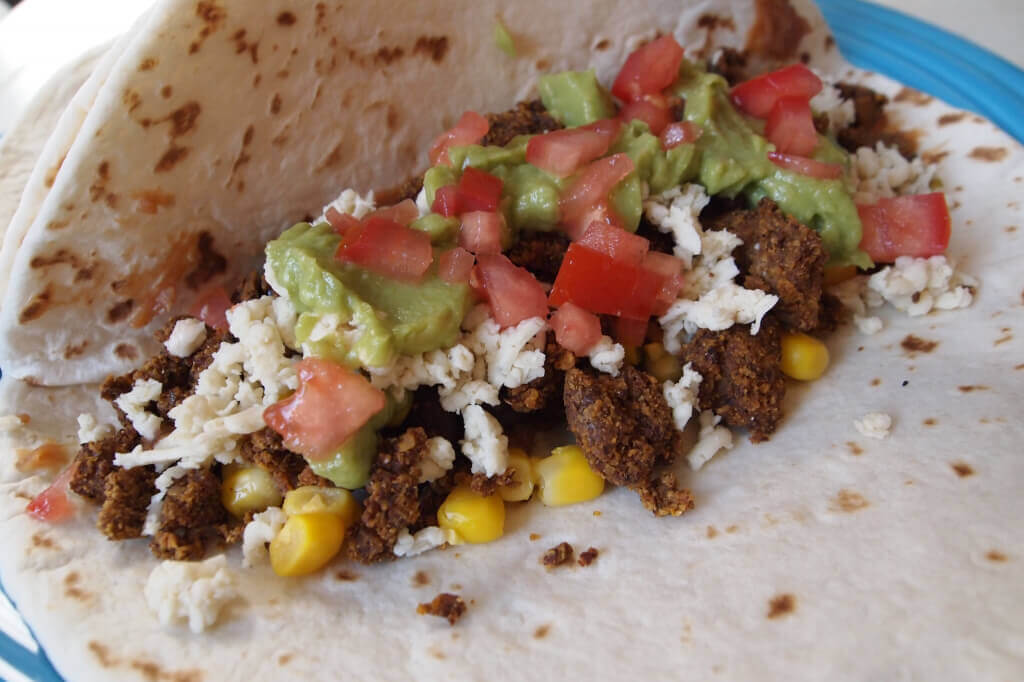 1 pkg. neat meat replacer
3 tsp. Ener-G Egg Replacer
1–2 Tbsp. water
1 tsp. olive or vegetable oil
8 oz. cooked refried beans
8 oz. cooked black beans
8 oz. cooked yellow corn
1–2 cups grated vegan cheese (try Daiya's Havarti Wedge)
2 tomatoes, diced
Guacamole, vegan sour cream, and/or fresh salsa
Mix the neat and egg replacer together in a large bowl. Add the water and stir until well combined
Heat the oil in a nonstick skillet. Add the neat mixture, crumbling as you place in the skillet. Sauté until browned, about 7 to 9 minutes.
Fill each tortilla with some of the neat mixture, then top with the remaining ingredients, as desired. Fold and enjoy!
Makes 4 to 6 servings
The Waffle Taco
1 box accidentally vegan pancake mix (we used Bisquick brand)
1–1 1/3 cups almond milk (follow the pancake mix instructions, using almond milk instead of cow's milk)
1/4 cup applesauce
1 Tbsp. olive oil
1/2 Tbsp. soy sauce
1 clove garlic, crushed
1/2 Tbsp. onion powder
1/2 tsp. thyme
1/2 tsp. turmeric
1/2 tsp. paprika
1/2 tsp. garlic salt
1 lb. extra-firm tofu, drained and cubed
1/4 lemon
1/4 cup nutritional yeast
1 pkg. frozen vegan breakfast sausages 
1 pkg. vegan cheese slices (or shreds)
Cook the waffles according to the package directions, using the almond milk instead of cow's milk and the applesauce instead of an egg for the batter. If you don't have a wafflemaker, make pancake tacos instead!
Add the olive oil, soy sauce, garlic, onion powder, thyme, turmeric, paprika, and garlic salt to a sauté pan. Cook over low heat and stir. Once the mixture begins to heat, spread evenly to coat the bottom of pan.
Crumble the tofu through your fingers and toss into the mixture. Cook, stirring often, for about 7 to 10 minutes. Once the scramble becomes firm to the touch and begins to brown, squeeze in the juice from the lemon and add in the nutritional yeast. Stir until coated. Allow to cook an additional 2 to 3 minutes.
Cook the vegan breakfast sausages according to the package instructions.
Top the waffles with the tofu scramble, breakfast sausages, and vegan cheese slices. Fold in half, and voilà!
Makes 6 to 8 servings
Vegan Lentil Tacos With Sriracha Sour 'Cream'
1/2 block extra-firm tofu, crumbled
1 tsp. maple syrup
Juice of 1 lemon
1/2 tsp. salt
1–2 cloves garlic, minced
2 Tbsp. Sriracha hot sauce
1–2 green onions, chopped
4 Tbsp. vegetable oil
6–8 corn tortillas
3 cups water
8–10 oz. dried lentils
1 pkt. vegan taco seasoning (or make your own)
2 cups shredded lettuce
1 cup diced tomatoes
2 cups shredded vegan cheese (try Daiya's Mozzarella Style Shreds)
Blend the tofu, maple syrup, lemon juice, salt, garlic, Sriracha sauce, half the green onions, and 2 tablespoonfuls of the vegetable oil until smooth. (Note that the salt, garlic, Sriracha sauce, and green onions can be added to taste.) Refrigerate until ready to use. (You may also simply use 1 cup of commercial vegan sour cream—use as is or mix with 2 tablespoonfuls of Sriracha sauce.)
Heat the remaining vegetable oil in a frying pan on medium to high heat.
Using tongs, place a corn tortilla in the pan and cook for about 15 seconds.
Fold the tortilla over and hold in a taco shell shape until the bottom is crispy.
Turn over and let the other side get crispy.
Remove from the pan and place on a paper towel to drain the excess oil. Repeat this process for all the tortillas.
In a large pot, bring the water to a boil.
Add the lentils and cook until tender, about 15 minutes.
Strain, place in a pan, and sauté with the taco seasoning. (Note that the taco seasoning can be added to taste.)
Fill each taco shell with lentils. Layer with the Sriracha sour "cream," lettuce, tomatoes, and remaining green onions and top with the vegan shredded cheese.
Makes 2 to 3 servings
Sweet Potato and Black Bean Tacos
Adapted from Joy the Baker
2 sweet potatoes, peeled and cut into cubes
1 1/2 Tbsp. olive oil
1/4 tsp. sea salt
1/2 tsp. red chili flakes
2 limes, cut in half
1 15-oz. can black beans, drained and rinsed
1/4 cup diced red onion
1 tsp. ground cumin
6 small corn tortillas
1/4 cup chopped fresh cilantro
Preheat the oven to 400ºF.
Combine the potatoes with 1 tablespoonful of the oil. Sprinkle on the salt, the chili flakes, and the juice of 1 lime.
Spread on a cookie sheet and bake for 25 minutes, or until softened through and browned on the outside. Flip once or twice during baking to ensure even cooking.
While the sweet potatoes are baking, cook the beans. Heat the remaining oil in a medium saucepan. Add the onion and cook until translucent. Add the cumin and stir until fragrant. Add the beans and the juice of the remaining lime. Cook until heated through.
Heat the tortillas in a hot skillet with just a touch of oil. Remove and serve with the sweet potatoes, beans, and fresh cilantro.
Makes 4 to 6 servings  
Spicy Vegan Taco Salad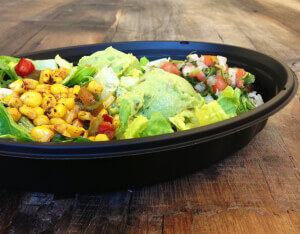 1 lb. extra-firm tofu, drained
3 Tbsp. olive oil
1 1/2 tsp. cayenne pepper
1 1/2 tsp. chipotle pepper
1/2 tsp. cumin
1/2 tsp. salt
1 small onion, sliced
1 bell pepper, sliced
1 head romaine lettuce, washed and chopped
1 cup guacamole
Salsa (optional)
Pat the block of tofu dry, then cut into five equal slices.
Heat 2 tablespoonfuls of oil in a sauté pan over medium heat. Add the tofu slices and cook until golden brown on one side, about 8 to 10 minutes.
Before flipping the tofu, sprinkle 1/2 teaspoonful of cayenne, 1/2 teaspoonful of chipotle, 1/4 teaspoonful of cumin, and 1/4 teaspoonful of salt over the uncooked side, then flip. Cook for 8 to 10 minutes, then repeat the step with the spices and salt. Remove from the heat, then slice each piece into 1/2-inch strips.
Add the remaining oil to the pan and sauté the onion and bell pepper until just soft. Add the remaining cayenne and chipotle, then remove from the heat.
Distribute the lettuce onto four plates, and add one-fourth of the onions and peppers to each. Add one-fourth of the spicy tofu slices, then top with 1/4 cup guacamole.
Add salsa, if desired, and serve.
Makes 4 servings
Respond