New Year's Goals: 18 Recipes for a Taco Cleanse
Oh, tacos. Who knew that the answers to most of life's problems could rest in a tortilla or two? We've compiled the best recipes to inspire you to make this year #TheYearOfVegan tacos. Happy cooking!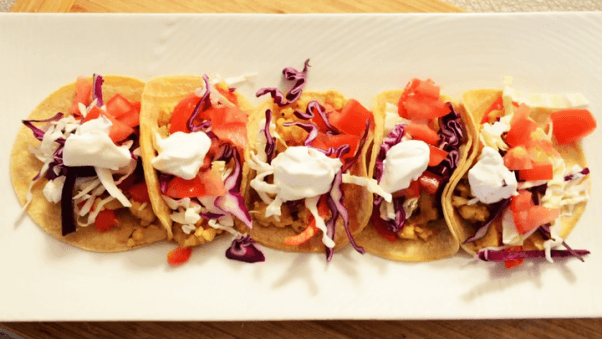 First, steam the tempeh. Next, sauté the onion, garlic, and red bell pepper. Add in the tempeh along with some tequila, brown rice syrup, lemon juice, soy milk creamer, and spices, and you're good to go. Spork Food's taco sliders offer a great new way to incorporate tempeh into your plant-based diet.
Jackfruit is a magical fruit that's hearty and really soaks up flavor. It's ideal for marinated dishes like vegan pulled pork and carnitas. Both fresh and canned jackfruit are available at ethnic grocery and health-food stores. This recipe from Vegan Richa calls for boiling jackfruit in a spicy garlicky chipotle sauce until it picks up the flavors. Sounds delicious!
Bell and poblano peppers are responsible for the robust flavor of these tacos, courtesy of Minimalist Baker. With just a few simple seasonings and a giant spoonful of guacamole, you'll be munching this Mexican goodness in no time.
The chorizo is a unique blend of walnuts, goji berries, sun-dried tomatoes, walnuts, jalapeño, and spices. Massaged kale and vegan sour cream are the final additions to this taco recipe. Brewing Happiness recommends that you use this recipe for the raw shells.
These Mediterranean-themed tacos by Pumpkin and Peanut Butter include baked falafel balls and Sriracha avocado cream, topped with a sprinkle of chopped cilantro for a refreshing finish.
Check out how crispy this baked cauliflower looks. Using no oil, you can achieve this perfect crunch with breadcrumbs and shredded coconut. The sweet and sour slaw and creamy tangy tartar sauce take these tacos to the next level, and all this plant-based goodness can be cooked in less than an hour. Your taste buds can thank the creative minds at Veggie Inspired Journey.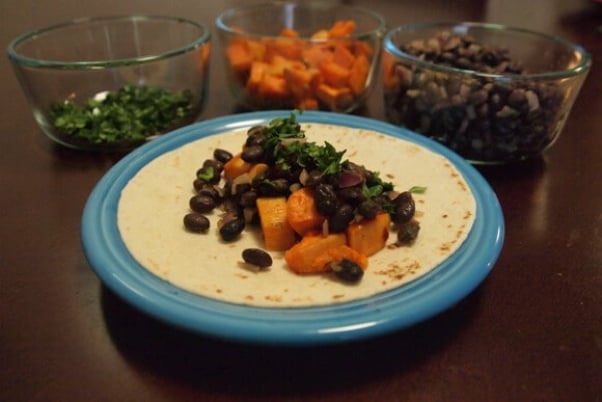 Try this healthy twist on the traditional version. PETA recommends that you replace the "beef" with a sweet potato filling that's low in calories and loaded with vitamins A and C as well as potassium. Plus, one can of black beans contains 15 grams of protein. You can't beat that.
Spinach, potatoes, cilantro, and poblano peppers help to make this masterpiece green, but there are also ingredients like cumin, nutritional yeast, and plant-based milk to keep you on your toes. Forks Over Knives says that this is one of the best ways to make vegan tacos, and we believe it.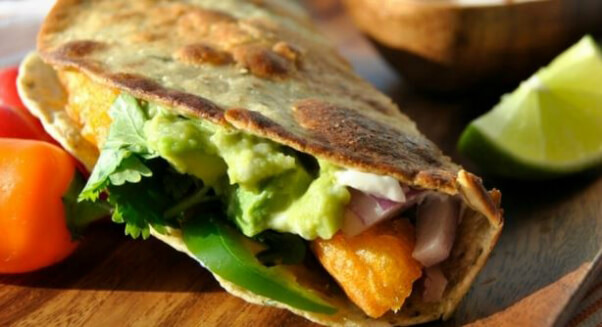 We used Gardein Fishless Filets to make a quick and easy "fish" taco that will please vegans and meat-eaters alike. Add a few garnishes, guac, and vegan sour cream to make it even better.
Pay no attention to the name of these tasty tacos, as they can be eaten for every meal of the day. Featuring tofu, black beans, avocado, and a sprinkling of pomegranate arils, These tacos cook in only 15 minutes. Minimalist Baker suggests that you mash your black beans if you prefer more of a "refried" texture.
Your Vegan Mom hits one out of the park with beer-battered avocado tacos and vegan cream sauce. She had us at beer-battered.
This vegan and gluten-free recipe includes three main components: a mix of chickpeas, walnuts, and sweet potato; some sautéed bell peppers; and an avocado cream topping. What's avocado cream, you ask? Nutrition Stripped is happy to explain: blended avocado, fresh cilantro, olive oil, and lime.
Fill a crunchy lettuce leaf with a combination of sautéed bell peppers and a protein-packed lentil-walnut mixture, and you have yourself one of these vegan and gluten-free tacos, courtesy of Oh She Glows. Add a squeeze of lime and cashew sour cream to make this dish even more irresistible.
Tempeh lightly marinated and seared. Tangy coconut peanut sauce. Avocado, mango, cilantro, and red cabbage toppings. Is your mouth watering yet? Love & Lemons knows how to do vegan tacos.
These tacos are fantastic for winter months when you're craving something warm and hearty. Simply sauté some onions, then add in mushrooms, crumbled tempeh, chili powder, and cumin. The final step is to add lime juice, tomato purée, and tamari to the pan. Emma's Little Kitchen knows that brilliant tacos are as easy as one, two, three.
Chorizo that's made from cauliflower and sundried tomatoes? You've piqued our interest. This fantastic recipe by Blissful Basil is topped off with onion, avocado, hemp seed sour cream, cilantro leaves, and a spritz of fresh lime juice. A simple hemp seed sour cream recipe is on the same page, too, for your convenience.
The four C's are the secret to preparing these plantains: coconut oil, cumin, cinnamon, and cayenne. Minimalist Baker recommends chopped jalapeño, cilantro, red onion, and lime juice to top these simple vegan tacos.
We all know that lentils are a superfood and that tacos are super-scrumptious, so it's only logical to combine the two. Add cauliflower and spices to the mix, and health-wise, these tacos will be pure genius.
Need more recipes? Try this fabulous cookbook:
Respond