Vegan
Tempeh Tequila Taco Sliders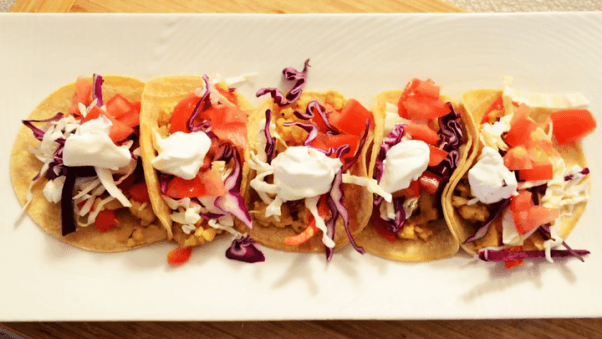 Print
Ingredients
1 pkg.

tempeh (try Lightlife brand), sliced into strip

1 Tbsp.

neutral-tasting oil (safflower or refined coconut)

1/2 

medium white onion, finely chopped

2

cloves garlic, finely chopped

1

red bell pepper, cut into thinly sliced strips

1/3 cup + 2 Tbsp.

tequila

1 1/2 Tbsp.

brown rice syrup

2 Tbsp.

lemon juice

1/2 cup

soy milk creamer (try Wildwood brand)

1/2 tsp.

sea salt

1/2 tsp.

finely ground black pepper

1 tsp.

dried oregano

1/4 tsp.

dried ground cumin

1/4 tsp.

ground Ceylon cinnamon

8–10

mini organic corn tortillas

1/4 head

green and/or purple cabbage, thinly sliced

1

small tomato, diced

1/4 cup

vegan sour cream, for garnish (optional)
Instructions
Add 1 inch of water to a 6-quart pot and place a steamer basket inside. Bring to a simmer with the lid on. Steam the soy tempeh for about 5 to 7 minutes. Roughly chop when cooled slightly, then set aside.
Heat a skillet and add the oil. Sauté the onion, garlic, and red bell pepper until soft, about 4 to 5 minutes. Add the tempeh, 1/3 cup of the tequila, brown rice syrup, lemon juice, soy milk creamer, sea salt, pepper, oregano, cumin, and cinnamon. Cook until golden, about 8 to 10 minutes, stirring frequently. Add the remaining tequila during the last 2 minutes of cooking. Remove from the heat.
To form the tacos, add the tempeh mixture to the tortillas. Top with the cabbage, tomato, and vegan sour cream.
Makes 4 to 6 servings
© Spork Foods, 2013