Vegan
Delicious Vegan Battered Fish Tacos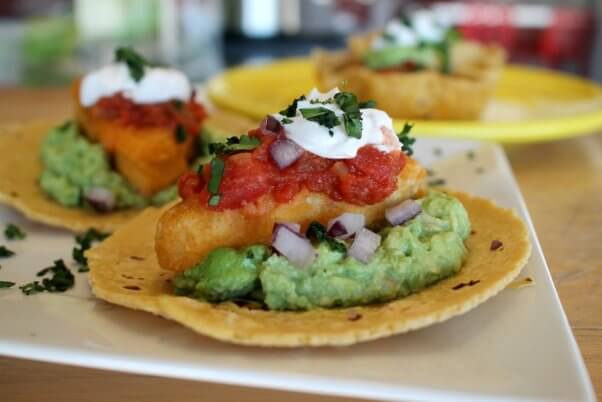 Print
Ingredients
1 pkg.

Gardein fishless filets

1 tsp.

oil or lime juice

6

medium-sized corn tortillas

1/2 cup

guacamole or 1 avocado, sliced

Diced onion (optional)

Chopped cilantro (optional)

Jalapeño slices (optional)

Lime juice (optional)
Instructions
Cook the fishless filets according to package directions.
Warm the oil in a pan over medium heat. Place a tortilla in the pan and cook, turning once, until softened.
Remove from the pan and spread with 1 tablespoonful of the guacamole.
Cut the cooked fishless filets into strips and place 3 strips on the tortilla. If desired, top with diced onion, chopped cilantro, and jalapeño slices and drizzle with lime juice.
Repeat with the remaining tortillas.
Serve with salsa, vegan sour cream, or vegan tartar sauce.
Makes 6 tacos