Vegan
Cauliflower Lentil Tacos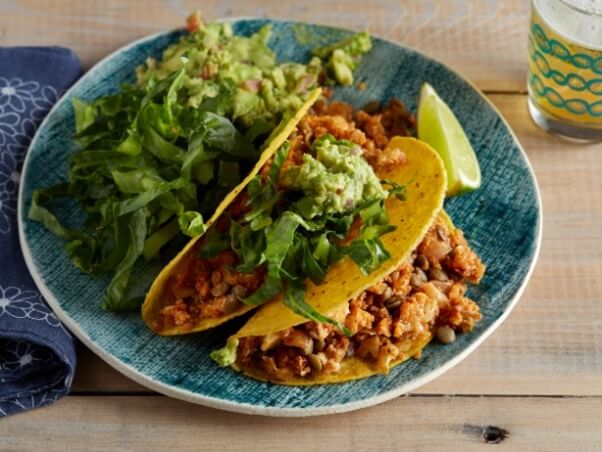 Print
Ingredients
1 cup

green or brown lentils

3 cups

water

1 head

cauliflower, stems and leaves removed and broken into 1-inch pieces

2 Tbsp.

olive oil

2

medium yellow onions, diced (about 1 1/2 cups)

1

jalapeño pepper, de-seeded and minced

4 cloves

garlic, minced

4 tsp.

chili powder, divided

2 tsp.

ground cumin, divided

1 tsp.

ground coriander, divided

1/2 cup

canned or homemade tomato sauce

1 1/2 tsp.

salt, or to taste

1/2 tsp.

ground pepper, or to taste

1 pkg.

organic taco shells

4 cups

shredded romaine lettuce, reserved for topping
Instructions
Rinse and drain the dry lentils thoroughly. Combine with the water and bring to a boil. Reduce the heat to low and simmer until tender, about 30 minutes. Drain any excess water.
In a food processor, pulse the cauliflower into rice-size pieces. Heat the olive oil in a large skillet over medium heat. Cook the onion and jalapeño until the onion is translucent, about 5 to 7 minutes. Add the cauliflower, garlic, and half the spices and cook for 4 minutes. Stir in the tomato sauce and cook for another 3 to 4 minutes, or until the cauliflower is tender.
Add the cooked lentils, the remaining half of the spices, and the salt and pepper. Cook for an additional 3 minutes to blend the flavors. Scoop the finished mixture into the taco shells, then top with shredded romaine lettuce and a dollop of guacamole. Serve immediately.
Makes 6 to 8 servings
Cook's Note: With its hearty, chunky consistency, the cauliflower lentil rice can also be served as a side dish with refried beans, guacamole, or salsa or used as a filling for enchiladas.