Racetrack Surfaces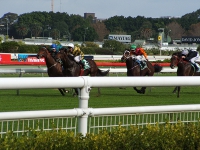 Horses used for racing in the U.S. are typically trained and raced on hard-packed dirt surfaces, even though numerous studies have linked these surfaces to an increased risk of catastrophic injury. There are numerous alternatives to dirt, including both natural and artificial turfs, both of which have been shown to significantly decrease injuries in racehorses.
Two years of study of the Equine Injury Database determined that horses who were raced on synthetic surfaces were 27.6 percent less likely to break down than horses racing on a dirt surface. Another study conducted by The Jockey Club found that fatal breakdowns on synthetic tracks were 1.55 per 1,000 starts, compared with 2.14 per 1,000 starts on dirt. And after California switched to synthetic tracks, the number of breakdowns fell by a dramatic 40 percent.
At Santa Anita Park in California, there were 22 racing and training fatalities during the 2006-2007 season, the last race season before a synthetic track was installed. During 2009-2010 (the last season that races were held on the synthetic track), there were two fatalities, which jumped to a whopping 19 when the synthetic track was replaced with clay and sand.
"[T]he racing board's equine medical director [Dr. Rick Arthur] … described the 2009-2010 racing season at Santa Anita as 'an unusually safe year. It was almost [at] European levels.'" —Steve Andersen, Daily Racing Form
However, turf—grass—is by far the safest racing surface and is the standard throughout the rest of the world. Switching to turf racing in the U.S. is likely to reduce injuries significantly.
Of course, as one commentator noted, "An unfit horse racing on illegal drugs will break down on polytrack, dirt, turf, or pillows." That's why PETA's horse-racing campaigns take a multipronged approach and why we're urging people to contact their congressional representative in support of a bill to ban performance-enhancing drugs in horse racing.