Drugs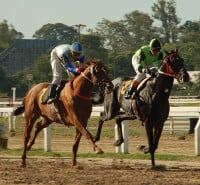 Trainers and veterinarians keep injured horses racing by giving them a variety of legal drugs to mask pain and control inflammation. This leads to breakdowns because the drugs enable the horses to run when they should be recovering.
The controversy surrounding the sweeping use of Lasix in horses is indicative of the deadly and pervasive nature of drug use in the industry. When pushed to gallop at racing speeds, virtually all horses experience some degree of exercise-induced pulmonary bleeding as the capillaries in their lungs begin to rupture. More than half of all thoroughbreds used for racing will have traces of blood in their airways following a race. The drug furosemide, commonly referred to as Lasix, restricts excessive bleeding in a horse's airways by directing the blood to the kidneys. However, there is evidence that the drug artificially enhances performance and conceals the presence of other drugs.
Lasix is a powerful diuretic—horses given the drug will lose about 2 percent of their bodyweight in water, resulting in a weight advantage of roughly 20 pounds (in comparison, weight handicaps typically vary between 5 and 10 pounds). Because it increases urine production, Lasix has the ability to mask the presence of other—often illegal—drugs by "flushing out" a horse's system. While most countries ban the use of Lasix on race days because of its performance-enhancing qualities, more than 90 percent of thoroughbreds in the U.S. are given the drug just hours before they race.
The racing industry is finally beginning to acknowledge the dangers that Lasix and other drugs pose. The Breeders' Cup recently banned race-day medications for the Breeders' Cup Juvenile (2-year-olds) 2012 race and will extend this ban to include all older horses in following years.
Illegal drugs are also rife in the industry, and there's a long list of trainers who have been charged with multiple violations: Steve Asmussen's horses have tested positive for illegal drugs more than 20 times in his career; Todd Pletcher (currently the leading trainer in the U.S. and the trainer of the 2010 Kentucky Derby winner, Super Saver) has been suspended several times, including for a positive test in a Breeders' Cup race; D. Wayne Lukas was caught with cocaine and administered drugs to a filly who later broke her leg; Jeff Mullins has been suspended multiple times in his career; Darrel Delahoussaye has used snake venom and milkshakes on horses; and in 2007, Patrick Biancone was suspended for one year for numerous drug violations, including possession of cobra venom, possession of medications without proper labeling, possession of injectables, and failure to report violations.
Rick Dutrow, who trained Big Brown (the steroid-enhanced horse who won the Kentucky Derby the day that Eight Belles fatally broke down), is perhaps the poster child for racing industry corruption. Dutrow has been sanctioned more than 60 times for various rule violations in nine states. He was suspended for 60 days when the Class 3 drug Butorphanol was found in the post-race test of Fastus Cactus. Dutrow was suspended for an additional 30 days when syringes allegedly filled with the sedative xylazine were found in his barn at a racetrack. He has been suspended or imprisoned multiple times for clenbuterol violations. Finally, in October 2011, after years of drug violations, the New York State Racing and Wagering Board banned Dutrow from all New York tracks for a precedent-setting 10 years! PETA is encouraging other states that sponsor horse racing to follow suit.
The U.S. is the only country that still allows such routine and extensive use of drugs in horse racing, despite the overwhelming evidence that drugs are deadly for horses. And because "retired" racehorses are routinely shipped to slaughter, these powerful drugs—most of which are banned for use in humans and in animals raised for human consumption—wind up in the human food supply in Europe, where consumption of horse flesh is common.
Thanks to pressure from PETA, other animal advocate groups, and Congress, the Breeders' Cup recently banned race-day medications in juvenile races, and a bill currently before Congress would ban the use of all performance-enhancing drugs in the racing industry.
Please contact your representative today to voice your support for this critically needed legislation.