Meet peta2: PETA's Youth Division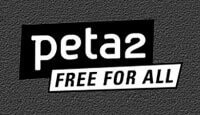 Launched in the summer of 2002, peta2 was created to meet the demands of today's generation, which considers animal rights to be one of the most important social justice issues of our time. According to youth-culture research company Label Networks, PETA is the number one nonprofit for which 13- to 24-year-olds in North America would volunteer, and Elle Girl readers voted animal rights the "Coolest Political Cause."
As PETA's youth division, peta2 empowers and enables young people to make animal-friendly changes in their schools and communities. In addition to staffing information tables at some of today's biggest music tours and festivals, peta2 also works with the hottest animal-friendly bands, athletes, and apparel companies on everything from public service announcements to exclusive interviews as well as contests in which fans can win exciting prizes, such as skate decks and T-shirts autographed by their favorite bands.
In addition to informing and inspiring young people through peta2.com—which receives hundreds of thousands of visits each week—the folks at peta2 also send out information-packed e-newsletters and use social-networking sites such as MySpace and Facebook to motivate their audience to take action.
As it works to nurture this generation's unlimited potential to make a huge difference in the world for animals, peta2 also provides all the information, literature, advice, and moral support that is needed to live a cruelty-free lifestyle and get active for animals. Members of peta2 are involved both as individuals and as members of peta2's Street Team, which promotes animal rights at a grassroots level and makes sure that PETA's message is visible and heard.
Highlights and Accomplishments
In 2004, a call to take action against Forever 21 for selling fur generated such an overwhelming response from activists that the popular clothing chain decided to ditch fur forever. Later, all 150 Gadzooks stores went fur-free after the clothing company merged with Forever 21.
In 2005, a "chain letter"–style bulletin was circulated on MySpace about peta2's campaign to persuade Wet Seal to stop selling fur. In just a few days, more than 350,000 people visited peta2.com to learn about the campaign and watch undercover video footage of what happens to animals who are raised for fur. Within weeks, Wet Seal was negotiating with PETA to end the campaign.
In 2007, peta2 launched a campaign to get Newbury Comics to stop selling animal figurines that were made from rabbit fur. Within a day of receiving more than 700 e-mails from peta2 activists, the New England music store chain immediately removed products made of fur from its shelves and enacted a permanent anti-fur ban.
In 2007, peta2—with the help of Street Team members—circulated information about grocery store chain Giant Eagle's sale of foie gras, which is made from the diseased livers of ducks and geese. After receiving nearly 250,000 e-mails and countless phone calls from concerned individuals, Giant Eagle removed the cruelly produced "delicacy" from its more than 200 stores.
Animals need people of all ages and types to stand up for them. For great ideas on how to get active for animals today, visit PETA's Action Center.