'The Worst Thing' That Joaquin Phoenix Has Ever Seen
The acclaimed actor shares barbaric footage of China's dog-leather industry.
Read Transcription
Hi. I'm Joaquin Phoenix, for PETA, and the footage that you're about to watch of China's dog-leather trade is the worst thing I've ever seen.
Dogs like these are taken from Chinese streets and beaten to death. Their skin is turned into leather gloves, belts, and other accessories. Terrified dogs watch as those ahead of them are kicked and beaten over the head, then have their throats slit and the skin peeled right off their bodies. When their turn comes, it won't be quick.
Products made from dog leather are exported throughout the world to be sold to unsuspecting customers. So, if you buy leather gloves, belts, or shoes, remember: There's no easy way to tell whose skin you're really in.
 If you love dogs like I do, then please, never buy or wear leather, whether it comes from a dog, a cow, or any other animal. Go to PETA.org to learn how easy it is to avoid leather and wear vegan. Thank you.
Get PETA Updates
Stay up to date on the latest vegan trends and get breaking animal rights news delivered straight to your inbox!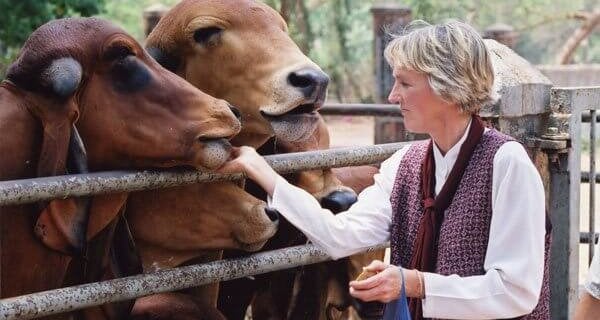 "Almost all of us grew up eating meat, wearing leather, and going to circuses and zoos. We never considered the impact of these actions on the animals involved. For whatever reason, you are now asking the question: Why should animals have rights?" READ MORE
— Ingrid E. Newkirk, PETA President and co-author of Animalkind