'Boyhood' Director on Saving Animals
In PETA's playful homage to Boyhood, Richard Linklater explains his views on animals, the environment, and being a proud vegetarian from Texas.
Read Transcription
1985
Hi, Richard Linklater here. It's 1985, and I decided I'm going vegetarian. So I told this new group, People for the Ethical Treatment of Animals, PETA? That I'd meet with them every five years to see how it's going. So here we go!
1990
Here I am, five years a vegetarian.  It's been going great. Did you know that you save 100 animals every year just by not eating them? So I've already saved 500 animals. That's awesome
1995
People say to me – "but you're from Texas and you're a vegetarian?" Yep. It's easy. It's Texas – we've got everything here including vegetables!
2000
Going stronger than ever. The more I learn about the meat industry, the happier I am I made this decision 15 years ago! I've never felt better
2005
And did you know that going vegetarian also helps save the planet? The meat industry is one of the worst perpetrators of climate change and environmental degradation.
2010
I love pigs and cows and chickens and turkeys and-
2015
It's been 30 years since I first went vegetarian.. By my calculations, that's 3,000 animals saved – . That's pretty cool. It's also cool because this vegetarian thing has been really good for me – I mean, look, I haven't changed a bit!
Do yourself and the animals a favor. Try veg. Go to PETA.org for more information.
Get PETA Updates
Stay up to date on the latest vegan trends and get breaking animal rights news delivered straight to your inbox!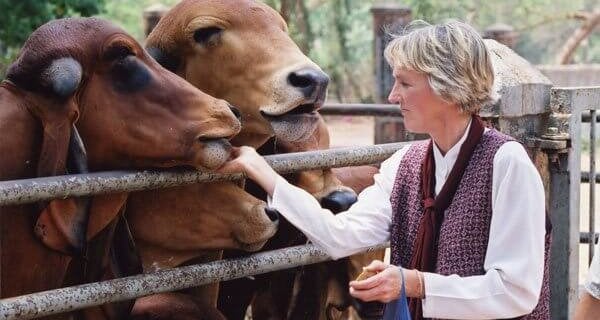 "Almost all of us grew up eating meat, wearing leather, and going to circuses and zoos. We never considered the impact of these actions on the animals involved. For whatever reason, you are now asking the question: Why should animals have rights?" READ MORE
— Ingrid E. Newkirk, PETA President and co-author of Animalkind