A seemingly innocent trip to the grocery store shows this cartoon man the whole #milktruth.
The reality is that cows produce milk for the same reason that humans do: to nourish their young. In order to force them to produce milk continuously, factory-farm operators typically have the cows impregnated by artificial insemination every year. Calves are generally torn away from their loving mothers within a day of being born, which is extremely traumatizing to both mother and calf. Male calves are destined for cramped veal crates or barren lots where they will be fattened for beef, and females are sentenced to the same sad fate as their mothers.
After their calves are taken away from them, mother cows are hooked up, several times a day, to milking machines. They are genetically manipulated, artificially inseminated, and often drugged in order to force them to produce about four and a half times as much milk as they naturally would for their calves.
A cow's natural lifespan is about 25 years, but cows used by the dairy industry are killed after only four or five years. Because the industry manipulates them so intensively to increase their milk production, they are considered "spent" by then, and their bodies are turned into soup, companion-animal food, or low-grade hamburger meat.
Subscribe to PETA's YouTube channel and never miss another video.
Get PETA Updates
Stay up to date on the latest vegan trends and get breaking animal rights news delivered straight to your inbox!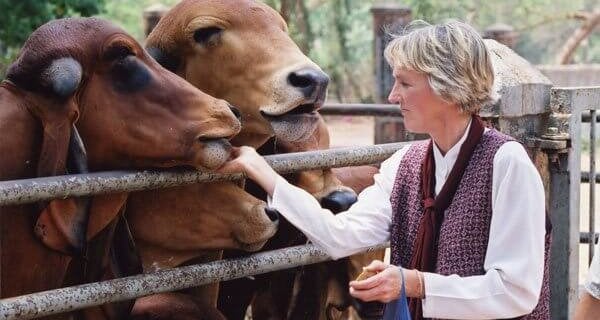 "Almost all of us grew up eating meat, wearing leather, and going to circuses and zoos. We never considered the impact of these actions on the animals involved. For whatever reason, you are now asking the question: Why should animals have rights?" READ MORE
— Ingrid E. Newkirk, PETA President and co-author of Animalkind