16 Photos That Will Change Your Mind About Eating Meat
Take a look inside the industries that raise animals for food. You'll never eat the same way again.
Text GO VEGAN to 73822 to receive a free vegan starter kit for you or a friend..- Terms for automated texts/calls from PETA: http://peta.vg/txt. Text STOP to end, HELP for more info. Msg/data rates may apply. U.S. only.
On modern farms, cows, chickens, pigs, ducks, geese, and other animals live in extremely stressful conditions. Most are kept in small cages, in jam-packed sheds, or on filthy feedlots—often with so little space that they can't even turn around or lie down comfortably. The animals are deprived of exercise so that all their bodies' energy goes toward producing flesh, eggs, or milk for human consumption. They're fed drugs in order to fatten them up more quickly and keep them alive in conditions that could otherwise kill them. They're genetically altered to grow faster or produce much more milk or eggs than they naturally would. All of this is legal and standard procedure on factory farms.
Even on so-called "humane" farms, animals face painful mutilations, severe crowding, and a terrifying, painful death. The only way to eat humanely is to eat vegan.
Subscribe to PETA's YouTube channel and never miss another video.
Get PETA Updates
Stay up to date on the latest vegan trends and get breaking animal rights news delivered straight to your inbox!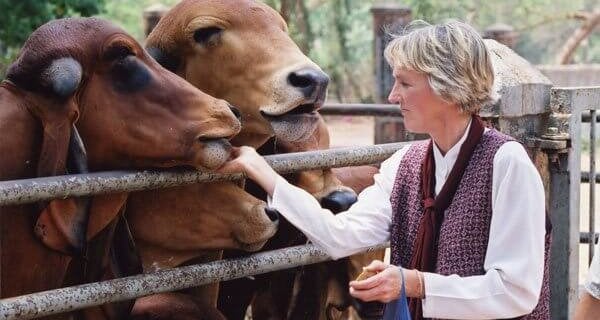 "Almost all of us grew up eating meat, wearing leather, and going to circuses and zoos. We never considered the impact of these actions on the animals involved. For whatever reason, you are now asking the question: Why should animals have rights?" READ MORE
— Ingrid E. Newkirk, PETA President and co-author of Animalkind