It's no secret that children are the key to a more progressive future and a more compassionate world. The Good Kid Project highlights exceptional young people who go above and beyond for animals, fellow humans, and the environment. Check out the stories of Tabitha, the 8-year-old who decided to focus on ending animal experimentation; Genesis, who was PETA Kids' Cutest Vegan Kid in 2015 and has her own TEDx Talk; and many others. The Good Kid Project has also developed fictional stories and lesson plans for educators and students in grades K–5 that emphasize the importance of treating all sentient beings with kindness.


SAMPLE STORY FROM THE GOOD KID PROJECT
This free sample story from The Good Kid Project's We're All Animals box set describes the reactions of the main characters—Addie, Oliver, and friends—as they come across a truck transporting cows at a stoplight. After reading it, encourage students to answer the following discussion questions and challenge questions provided by The Good Kid Project (and get the K–5 Lesson Guide to help you integrate this activity into your curriculum):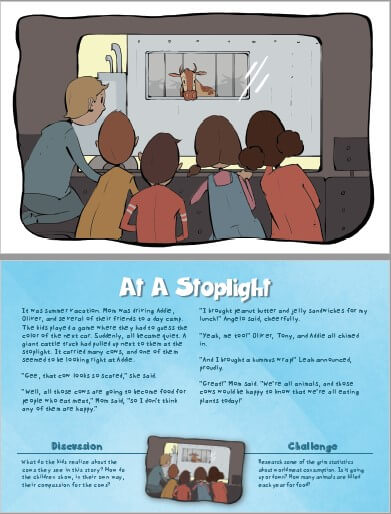 Discussion Questions
What do the kids realize about the cows they see in this story?
How do the children show, in their own way, their compassion for the cows?
Challenge Questions
Research some of the grim statistics about world meat consumption. Is it going up or down?
How many animals are killed each year for food?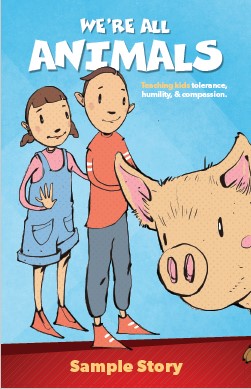 "Great!" Mom said. "We're all animals, and those cows would be happy to know that we're all eating plants today!"
TEACHKIND PARTNERSHIP WITH THE GOOD KID PROJECT
Be sure to grab a 20% discount on the We're All Animals box set by using the coupon code TeachKind20. TeachKind receives $3 each time the coupon code is used, which will go toward supporting our work promoting compassion for animals in the classroom. It's a win-win situation for you, your students, TeachKind, and all animals.