Sometimes the language used in math word problems reinforces negative stereotypes about animals or promotes activities in which they're harmed. When you encounter a word problem that reflects an unkind attitude toward animals (e.g., one about selling eggs or going to an animal-based circus), start a discussion with your students exploring why the situation is inhumane (e.g., hens used for eggs are treated cruelly, or elephants and big cats are abused in circuses). Further students' comprehension by having them rewrite the word problem so that it's more compassionate.
Introduce humane vocabulary terms such as sanctuary, animal companion, and vegan with the sample word problems below. Use TeachKind's other mathematical exercises to help students practice their math skills and flex their empathy muscles.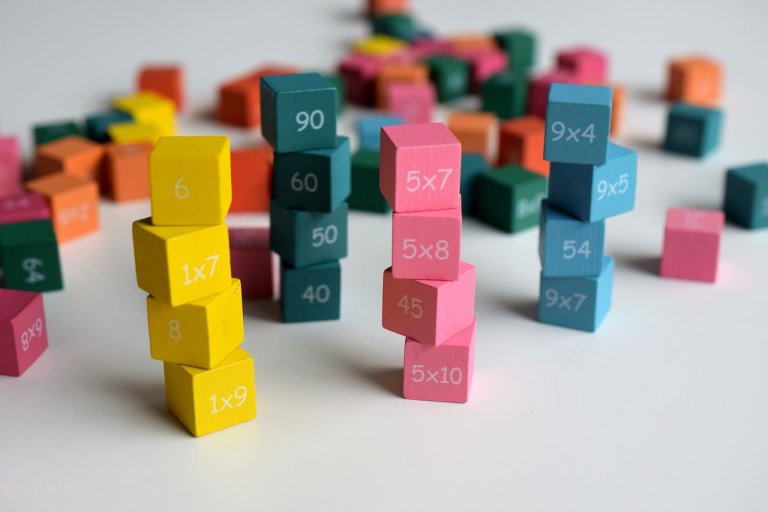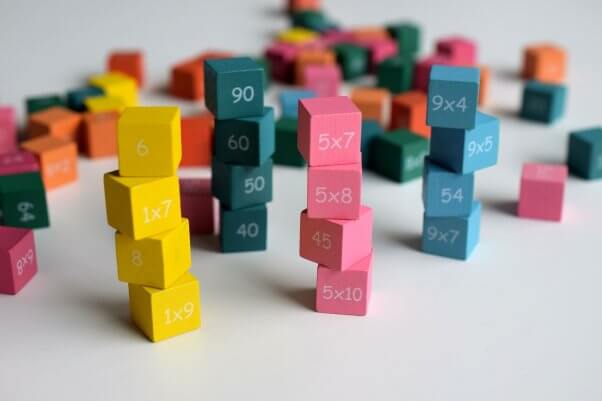 Addition
Megan visited an animal sanctuary in October. She saw five horses, five sheep, and three cows. How many animals did she see at the sanctuary? (Answer: 13)
Lisbet picks up her two dogs from doggie daycare. She takes them home, where she also has two cats. How many animal companions does Lisbet have? (Answer: four)
Caitlyn brought an apple and 10 carrot sticks for a snack. Ashley brought six strawberries and 12 celery sticks for a snack. How many pieces of fruit did they bring? (Answer: seven) How many vegetable sticks did they bring? (Answer: 22)
Subtraction
On Monday, Scott buys a bag of 10 treats for his dog, Bebe. He gives her two treats on Monday and one treat on Tuesday. How many treats does he have left for Bebe? (Answer: seven)
Rescuers were alerted that four bears were being kept at a roadside zoo without proper food and shelter. A couple of days later, the rescuers helped create a happy ending for the bears when all four were transferred to a local sanctuary. How many bears are left at the roadside zoo? (Answer: zero)
Sadie has four carrots to feed to her horse as a treat. She gives her horse one carrot in the morning and two carrots in the afternoon. How many carrots does she have left? (Answer: one)
Multiplication
Jenny ordered three vegan pizzas for a potluck lunch on Friday. Each pizza has 12 slices. How many slices of pizza will be taken to the potluck lunch? (Answer: 36)
Dan drinks two glasses of almond milk every day for seven days. How many glasses of almond milk does Dan drink in a week? (Answer: 14)
Buddy and Penny each receive two toys every year for their birthday. If Buddy is 3 years old, how many toys has he received? (Answer: six) If Penny is 5 years old, how many toys has she received? (Answer: 10)
Division
Emily has 20 bags of dog food that she wants to donate to local animal shelters. She distributes the bags of food evenly to four shelters. How many bags of food did each shelter receive? (Answer: five)
Lena adopted a cat named Isabelle who needs 8 ounces of food a day. If Lena feeds her cat an equal amount twice a day, how many ounces does she get at each meal? (Answer: 4 ounces)
Nathan has six nonleather belts. He gives one to his sister, saves one for himself, and gives the rest to four friends. How many belts did each friend get? (Answer: one)
Fractions
Audrey has 12 pairs of wool-free socks. Four pairs are black, four pairs are brown, and four pairs are white. What fraction of the pairs of socks are brown? (Answer: one-third)
Bryn bought 10 plants. Two were roses, five were sunflowers, and three were daffodils. What fraction of the plants were roses? (Answer: one-fifth)
Teresa baked 20 vegan cupcakes. She kept five cupcakes and gave the rest to her friends. What fraction of the cupcakes did Teresa keep? (Answer: one-fourth)
Check out TeachKind's other math lessons!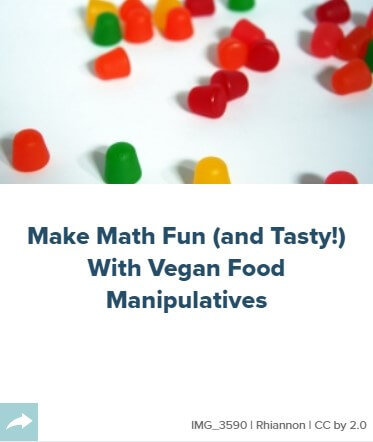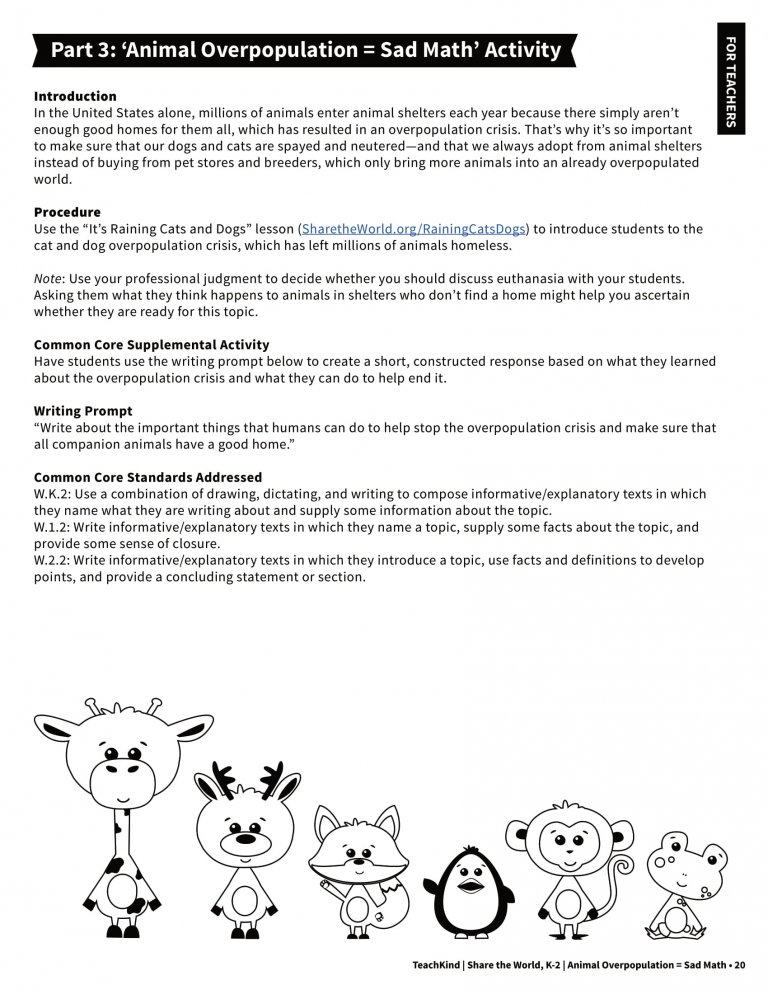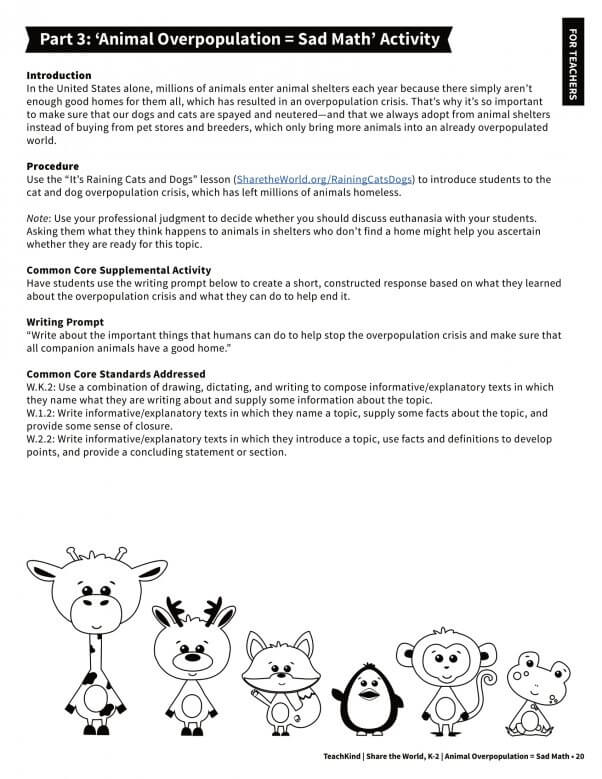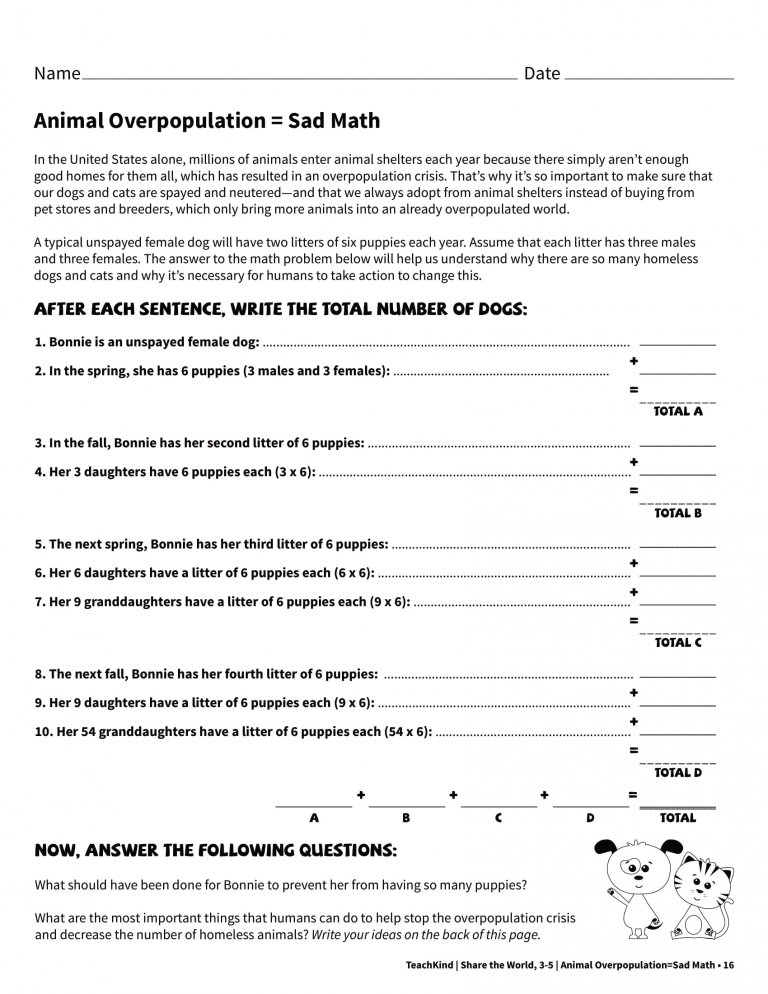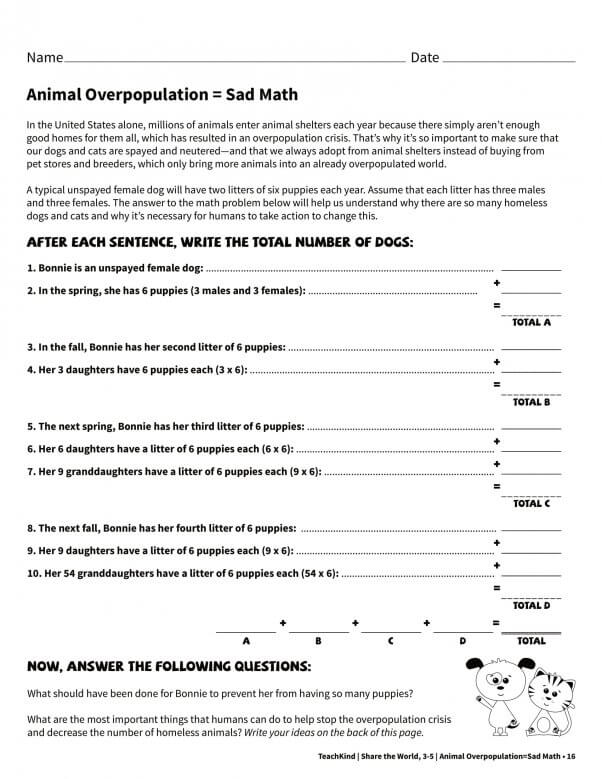 *****
 Like these ideas? Please share them to inspire other teachers to incorporate compassion for animals into their everyday lessons.
 Need more classroom inspiration? Fill out the form below to sign up for TeachKind News.
By submitting this form, you are agreeing to our collection, storage, use, and disclosure of your personal info in accordance with our privacy policy as well as to receiving e-mails from us.