Animals are individual beings with personalities, feelings, and lives, and as humane educators, it's our goal to help students understand this. Unfortunately, one nasty habit that many of us still have is referring to individual animals as "it" instead of "he" or "she."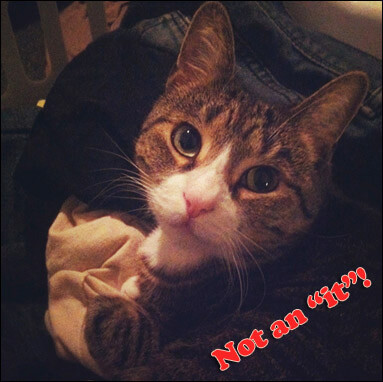 Referring to an animal as "it" perpetuates the idea that animals are not living, breathing, feeling beings—and are instead inanimate objects. Please use pronouns such as "he" and "she" whenever possible and avoid using the word "it" when talking about an animal.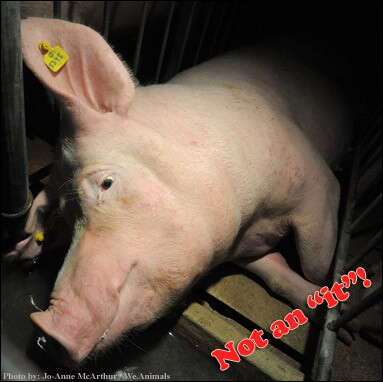 Changing your language when it comes to animals—especially in your classroom—will help instill in your students that animals are sentient individuals and should always be regarded and referred to as such. Language shapes the way we think, and changing one's diction to reflect a more compassionate viewpoint makes a difference—because an animal is someone, not something, and that distinction is extremely important!
So, ready for a fun and easy to way to help you and your students kick that bad "it" habit? Put an "It" Jar in your classroom!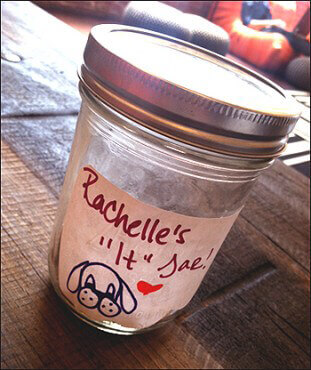 Here's how it works: For the next month, every time you or a student calls an animal "it," you'll keep track by throwing a marble into your "It" Jar. Decorate the jar, stick it in your classroom, and come up with some "rules" (see below for some ideas). Then talk to your students about why this small change in their language is important. This will help everyone become more aware of what they're really saying! After a month's time, discuss how everyone's awareness of using the word "it" has changed.
Variations on the 'It' Jar Rules
If you teach elementary school students, try these rules:
If your class goes a whole week without putting a marble in the "It" Jar, they'll get an extra 15 minutes of free time on Friday. Or start the kids off with 15 minutes of Friday free time and take a minute away with each marble that gets dropped into the jar.
Instead of marbles, have some small strips of paper handy so that if a student drops an "it" bomb during class, he or she has to write his or her name on a strip of paper and put it in the jar. At the end of the month, reward students who have no offenses with a free homework pass or a five-minute head start on recess.
If you teach middle or high school students, try these rules:
Tell students that if the marbles in the jar reach a certain number, they'll all be assigned an extra homework assignment (a fun one, though!). If the students do have too many "it" slips, make the added assignment something simple and animal-friendly, like having each student write a page about an experience they've had that has shown them that animals have feelings, too.
Throw in a competitive twist—have different class periods compete for the lowest number of marbles! Label a different jar for each class period, and reward the class with the least number of offenses at the end of a month with a homework-free weekend or some vegan snacks to pass around during class.
Have another idea? Go for it! There are lots of ways to get your students involved and make using the "It" Jar fun and effective. This is about helping students become more compassionate people, so be creative and make it your own!
When you're done, e-mail us at [email protected] with a picture of your classroom's "It" Jar along with your mailing address and a short explanation of what you and your students learned, and TeachKind will send your whole class a FREE set of animal-friendly sticker sheets as a reward for taking on the challenge. We might even feature your "It" Jar on our Facebook page! (By e-mailing us your photo, you're acknowledging that you've read and you agree to our terms of submission.)