As schools close down across the country, teachers are moving to last-minute online curricula. The swift and unprecedented switch can likely be a burden on many teachers' already full workloads, so TeachKind is here to alleviate some of the stress with free virtual presentations for students on Zoom!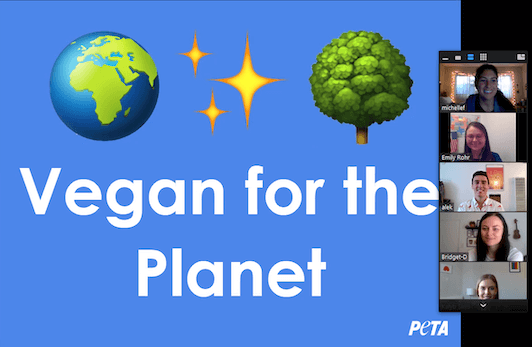 Your students will be able to call in to the session and watch as one of our dedicated staff members presents from an array of topics, including how animal agriculture affects the environment; how testing on animals is ineffective, unethical, and wasteful; the benefits of healthy vegan living; and many others. Our presentations easily lend themselves to persuasive writing and research lessons and can jump-start discussions about ethics, animal care, and other issues. We'll work with you to make sure our presentation fits in with your course and suits your class's needs.
TeachKind has worked with many schools, libraries, and community centers over the years, and we'd love to work with your class next. We hope to make things easier on you during these anxious times while empowering students to make informed, sustainable choices that demonstrate empathy and compassion.
Fill out the form below, and we'll get in touch to plan a date, time, and topic that will work for you and your class.
By submitting this form, you are agreeing to our collection, storage, use, and disclosure of your personal info in accordance with our privacy policy as well as to receiving e-mails from us.