Vegan
Vegan Spinach and Artichoke Dip Cups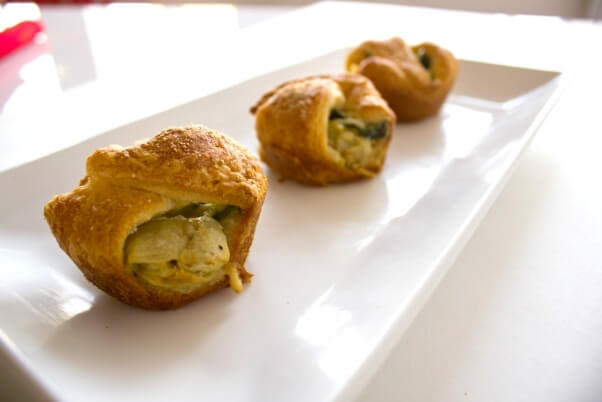 Print
Ingredients
1 can

artichoke hearts, drained and chopped

1 cup

chopped fresh spinach

1 cup

vegan mayonnaise (try Vegenaise brand)

1 cup

vegan mozzarella shreds (try Follow Your Heart brand)

1/4 cup

nutritional yeast

2–3

cloves garlic, chopped

Vegan Parmesan, to taste (optional) (try Follow Your Heart or GO VEGGIE brand)

Salt and pepper, to taste

1 can

vegan crescent roll dough
Instructions
Preheat the oven to 350ºF.
Combine all the ingredients except the crescent roll dough in a large bowl.
Unroll the crescent roll dough and place each triangle in one section of a muffin tin. Fill each triangle with some of the dip mixture. Fold the corners of the crescent triangles to cover the dip.
Bake for 15 to 20 minutes, or until the cheese is melted and the dough is golden brown.
Makes 8 dip cups