Vegan
Vegan Niçoise Salad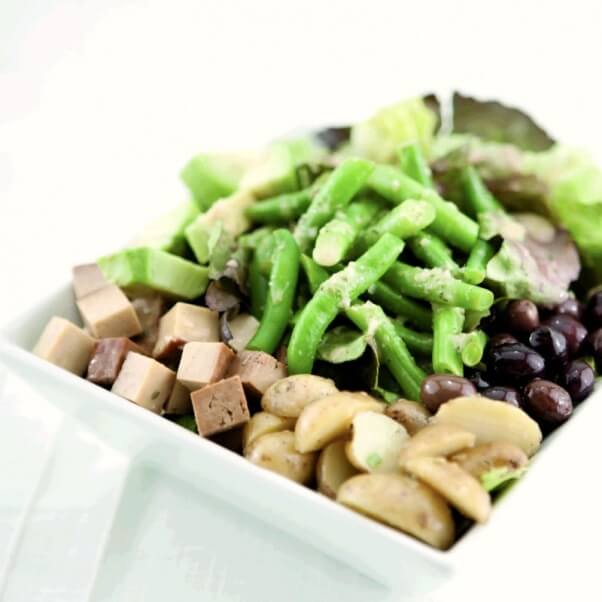 Print
Ingredients
2

heads red leaf or butter lettuce, washed and roughly chopped

1 gal.

water, for boiling

2 dashes

sea salt

4–5

small red potatoes, quartered

1 cup

fresh green beans, trimmed and cut into 1-inch pieces

1/2 pkg.

baked tofu, diced (about 1 cup)

1/2 cup

Niçoise olives

1/2

large avocado, diced
Instructions
Place the salad greens in a large bowl and set aside.
Bring the water and a dash of sea salt to a boil in a large (6-quart) pot. Add the potatoes and cook until tender, about 8 to 10 minutes. Using a slotted spoon, remove the potatoes and place in a bowl.
Keep the water boiling and add a dash more of sea salt.
Add the green beans and cook for 1 to 2 minutes, or until they float to the top and turn bright green. Drain and submerge in cold water. Drain again and place in a bowl.
Coat the potatoes with 3 tablespoonfuls of the dressing and set aside. Coat the green beans with 2 tablespoonfuls of the dressing and set aside.
Toss the salad greens with the remaining dressing until well coated.
Arrange the toppings in bunches, starting with the potatoes, followed by the green beans, baked tofu, Niçoise olives, and avocado.
Makes 4 to 6 servings
Note: If you are having a hard time finding Niçoise olives, you can use Kalamata olives.
Adapted from Spork-Fed
Los Angeles-based Spork Foods is a gourmet vegan food company owned and operated by sisters Heather Bell and Jenny Engel. They offer vegan organic cooking classes, chef training, recipe development, and private chef work in Los Angeles and worldwide. Their cookbook, Spork-Fed, with a foreword by fellow fans Emily and Zooey Deschanel, is currently in stores. They teach all over the country and the world, reaching over 10,000 people a year.