Vegan
Vegan Kimbap (aka Gimbap): Veggie, Rice, and Seaweed Roll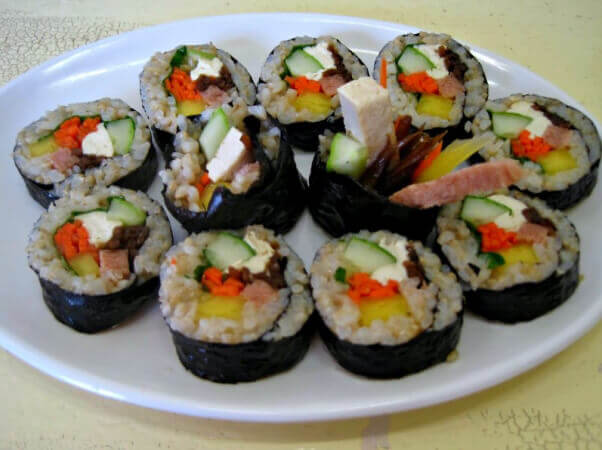 Print
Ingredients
2 cups

short grain rice, cooked

2 tsp.

sesame oil

1/2 tsp.

salt

1

portobello mushroom cap, sliced

1

carrot, julienned

2 cups

spinach

1 pkg.

dried seaweed sheets (gim)

5 strips

pickled daikon radish (danmuji)

1

cucumber, sliced lengthwise

1 block

cooked tofu, cut into strips (optional)
Instructions
Mix the cooked rice with the sesame oil and salt. Set aside.
Sauté the mushroom slices, carrots, and spinach individually. Allow each to cool.
Place a seaweed sheet on a bamboo mat. Spread the rice mixture evenly over the seaweed, leaving a 1-inch border without rice.
Stack the carrots, spinach, mushroom, radish, cucumber, and cooked tofu and roll it up tightly.
Using a sharp knife, cut the roll into bite-size pieces. Repeat this process using the remaining ingredients.
Makes about 5 servings
For more vegan Korean recipe ideas, check out Vegan Korean Recipes to Make You Say, 'Mashita!'.