Vegan
Vegan Irish Soda Bread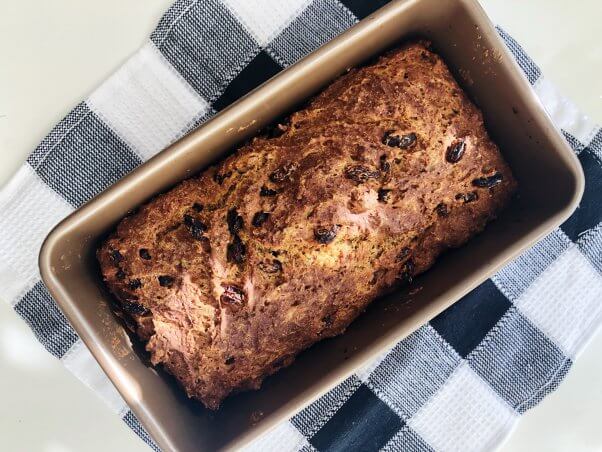 Print
Ingredients
1 1/2 tsp.

egg replacer

2 Tbsp.

water

1 cup

soy milk

1 Tbsp.

white vinegar

3/4 cup plus 1 tsp.

whole wheat flour

3/4 cup plus 2 Tbsp.

white flour

3 Tbsp.

sugar

1/2 tsp.

baking powder

1 Tbsp.

baking soda

1 1/2 Tbsp.

vegan butter, cut

1/2 cup

raisins

1 Tbsp.

caraway seeds
Instructions
Preheat the oven to 375F.
Mix the egg replacer with water until frothy and set aside.
In another bowl, combine the soy milk and vinegar and set aside.
Combine 3/4 cup of the whole wheat flour, the white flour,  the sugar, the baking powder, and the baking soda in a large mixing bowl with the vegan butter.
Slowly combine all three mixtures in the large mixing bowl. Use the remaining teaspoon of whole wheat flour to coat the raisins, then add them and the caraway seeds to the mixture. Pour into a nonstick 9″x 5″ loaf pan, and bake for 45 minutes. Serve warm.
Makes 10 slices.