Vegan
Vegan Grilled Portobello Burgers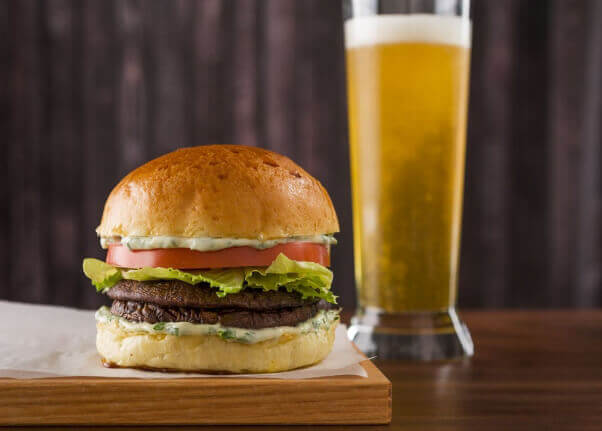 Print
Ingredients
1/4 cup

canola or vegetable oil

1/4 cup

balsamic vinegar

2 Tbsp.

dry white vermouth

2 tsp.

garlic powder

2 tsp.

onion powder

1 tsp.

Old Bay Seasoning

2 tsp.

low-sodium soy sauce

1/2 tsp.–1

Tabasco sauce

2

jalapeños, finely chopped

1 tsp.

freshly ground white pepper

2

Anaheim peppers, seeded and each carved into 2 wedges

8

portobello mushrooms, black gills under the caps scraped out

2-3 tsp.

chopped fresh tarragon leaves

1/4 cup

vegan mayonnaise

4

burger buns

4

romaine lettuce leaves, halved and trimmed to fit inside the rolls

1

tomato, sliced

1

red onion, thinly sliced
Instructions
Whisk the oil with the vinegar, vermouth, garlic powder, onion powder, Old Bay Seasoning, soy sauce, Tabasco sauce, jalapeños, and 1/2 teaspoonful of the pepper in a large bowl. Add the pepper wedges and mushrooms and toss to coat thoroughly. Marinate at room temperature for 45 minutes.
Lightly oil the grates, if necessary, and heat the grill to medium. Grill the pepper wedges, skin side down, until blackened, about 10 minutes, turning after 5 minutes to create crisscross grill marks. Set aside until cool enough to handle, then rub off the skins with a paper towel.
Meanwhile, grill the mushrooms, covered, until tender, about 8 minutes, turning once after about 6 minutes. Remove from the heat and set aside.
Stir the tarragon into the vegan mayonnaise in a small bowl. Generously spread on the inside of each burger bun. Place 1 pepper wedge and 2 grilled mushrooms on the bottom half of each burger bun and top with a lettuce leaf and one slice each of tomato and onion. Close the burgers and serve promptly.
Makes 4 burgers
Adapted from The Ultimate Beer Lover's Happy Hour by John Schlimm.  Suggested beer pairings: Belgian ale, American wheat ale, or an American or English pale ale.