Vegan
Tuesday Night Dinner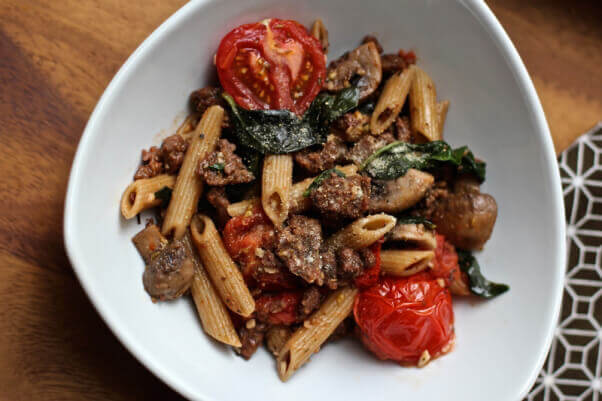 Print
Ingredients
1 1-lb. pkg.

whole-wheat penne

2 Tbsp.

olive oil

1 cup

vegan Italian sausage, defrosted and diced (we recommend using Upton's Naturals Italian Seitan, Tofurkey Italian Sausage, or Field Roast Italian sausages)

5

whole Campari or Roma tomatoes, cut in half

5

white or baby portobello mushrooms, cut in half

1 cup

chopped raw spinach leaves

2

cloves garlic, minced

1/2 cup

red wine

1 tsp.

garlic powder

1/4 tsp.

onion powder

1/4 cup

fresh basil leaves

2 tsp.

oregano

1 tsp.

Italian seasoning

1/4 tsp.

red pepper flakes

Vegan Parmesan or nutritional yeast, for garnish
Instructions
Prepare the pasta according to the package instructions.
While pasta is cooking, heat the olive oil in your deepest saucepan, skillet, or Dutch oven over medium heat. Once the oil is hot, toss in the vegan Italian sausage and cook, flipping occasionally, until slightly browned. Then, add all the remaining ingredients except the vegan Parmesan and cook, mixing gently without squishing your tomatoes. Once the spinach and basil begin to wilt, toss in 1/3 cup of the cooked and drained pasta and mix. Add another 1/3 cup pasta and mix. Continue until all the pasta has been added and mixed.
You'll know dinner is ready when the tomatoes are tender, the greens are wilted, and the pasta is coated.
Serve hot with some vegan Parmesan on top.
Adapted from the book Mastering the Art of Vegan Cooking by Annie and Dan Shannon. © 2015 by Annie and Dan Shannon. Reprinted by permission of Grand Central Life & Style. All rights reserved.