Vegan
Southwest Salad with Creamy Chili-Lime Dressing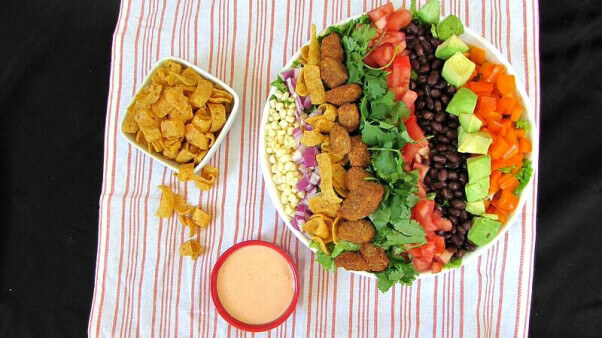 Print
Ingredients
1 pkg.

crispy vegan chicken strips

1 head

lettuce, chopped

1

red or orange pepper, chopped

1

avocado, chopped

1

medium tomato, chopped

1 bunch

cilantro, chopped

1

small red onion, chopped

1 ear

corn, husked and kernels removed (you can also used 1/2 cup cooked corn, but the raw corn gives a nice fresh crunch to the salad)

1 snack-size bag

original Fritos chips or corn tortilla chips

1 15–oz. can

black beans, drained and rinsed

1/2 cup

vegan mayonnaise (try Vegenaise)

1/4 cup

Sriracha sauce

Juice of 1 lime
Instructions
Cook the vegan chicken strips according to the package directions
Place the lettuce, red pepper, avocado, tomato, cilantro, onion, corn kernels, Fritos, and black beans in large bowl or on a large platter.
Combine the vegan mayonnaise, Sriracha sauce, and lime juice in a small bowl and mix well. Pour over the salad, toss well, and enjoy!
Makes 3 to 4 servings