Vegan
Pomegranate-Peach Barbeque Sauce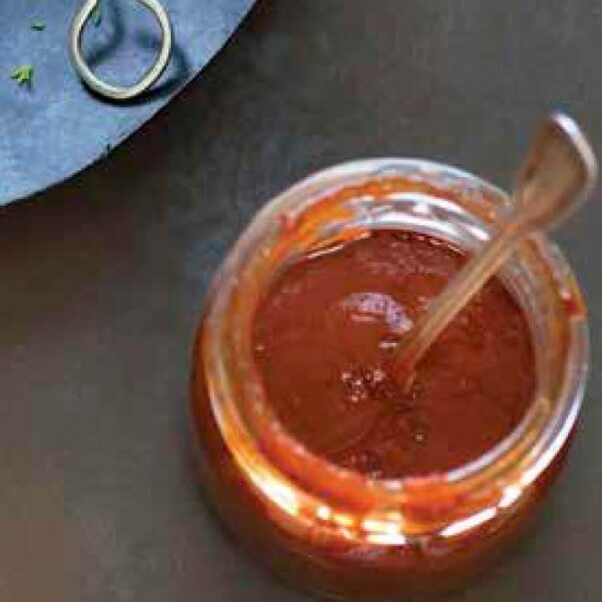 Print
Ingredients
3 Tbsp.

extra-virgin olive oil

1/2 cup

red onion, finely chopped

1/4 tsp.

coarse sea salt

1/8 tsp.

cayenne pepper

1

large clove garlic, minced

1 cup

peaches, peeled and diced

1 cup

tomato sauce

1/4 cup

water

1/4 cup

red wine vinegar

1/4 cup

pomegranate molasses

3 Tbsp.

freshly squeezed lime juice

2 Tbsp.

tamari or soy sauce

2 Tbsp.

tomato paste

1–3 Tbsp.

chipotle peppers in adobo sauce, chopped

2 tsp.

fresh sage, minced
Instructions
Warm the oil in a small saucepan over medium heat. Add the onion, salt, and cayenne pepper and sauté until the onion is soft, about 5 to 7 minutes. Add the garlic and sauté until fragrant, about 2 to 3 minutes.
Transfer to a blender. Add the peaches, tomato sauce, water, red wine vinegar, pomegranate molasses, lime juice, tamari or soy sauce, tomato paste, and chipotle peppers and process until smooth.
Pour the sauce back into the saucepan and simmer over medium-low heat, stirring occasionally, until thick, about 20 minutes. Stir in the sage and simmer for 1 to 2 more minutes. Taste and season with more salt, if desired. Use immediately or store in a tightly sealed jar in the refrigerator for up to 1 week.
Makes about 2 1/2 cups
Try this barbeque sauce with Summer Vegetable and Tofu Kebabs.
Recipes used with permission from Afro-Vegan by Bryant Terry, copyright © 2014. Published by TenSpeed Press, a division of Penguin Random House, Inc. Photography © 2014 by Paige Green
PETA is a participant in the Amazon Services LLC Associates Program, an affiliate advertising program designed to provide websites with a means to earn advertising fees by advertising and linking to Amazon.com.