Vegan
Summer Vegetable and Tofu Kebabs with Pomegranate-Peach Barbecue Sauce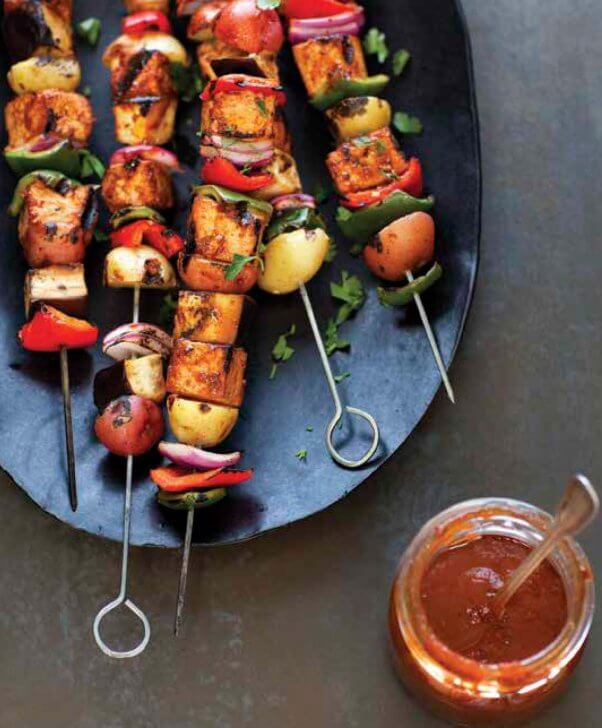 Print
Ingredients
28 oz.

extra-firm tofu, pressed (see tip), and cut into 1/2-inch cubes

3 Tbsp.

extra-virgin olive oil + more for coating the grill

1 Tbsp.

freshly squeezed lemon juice

1

large clove garlic, minced

1 tsp.

coarse sea salt

Pinch

cayenne pepper

4 oz.

small, round potatoes, halved and boiled until fork tender

1 lb.

eggplant, cut into 1-inch chunks

1

large green bell pepper, seeded and cut into 1-inch squares

1

large red bell pepper, seeded and cut into 1-inch squares

1

large red onion, quartered vertically, then halved crosswise
Instructions
In a large bowl, toss the tofu with 2 cups of the Pomegranate-Peach Barbecue Sauce until evenly coated. Transfer to a Ziploc bag and refrigerate overnight.
Remove the tofu from the refrigerator and let warm to room temperature.
Prepare a medium-high grill. While the grill is heating, add the oil, lemon juice, garlic, salt, and cayenne pepper to a large bowl and whisk to combine. Add the potatoes, eggplant, green and red bell peppers, and onion and toss gently until evenly coated.
Thread the tofu and vegetables onto 10 metal skewers. Pour the remaining 3 cups barbecue sauce and any remaining sauce from the Ziploc bag into a small saucepan. Bring to a boil over high heat, stirring frequently, and continue cooking for about 1 minute. Transfer to a serving bowl.
Brush the grill grate with oil. Put the kebabs on the grill and cook, turning frequently, until the tofu is lightly charred and the vegetables are fork tender, about 8 minutes. Serve with the warm barbecue sauce.
Tip: To press the tofu, put it on a plate, place another plate on top, and place a weight on top of that (a 28-ounce can of tomatoes works well) in order to press out the excess moisture. Let sit for at least 20 minutes and drain away the excess liquid.
Makes 5 Servings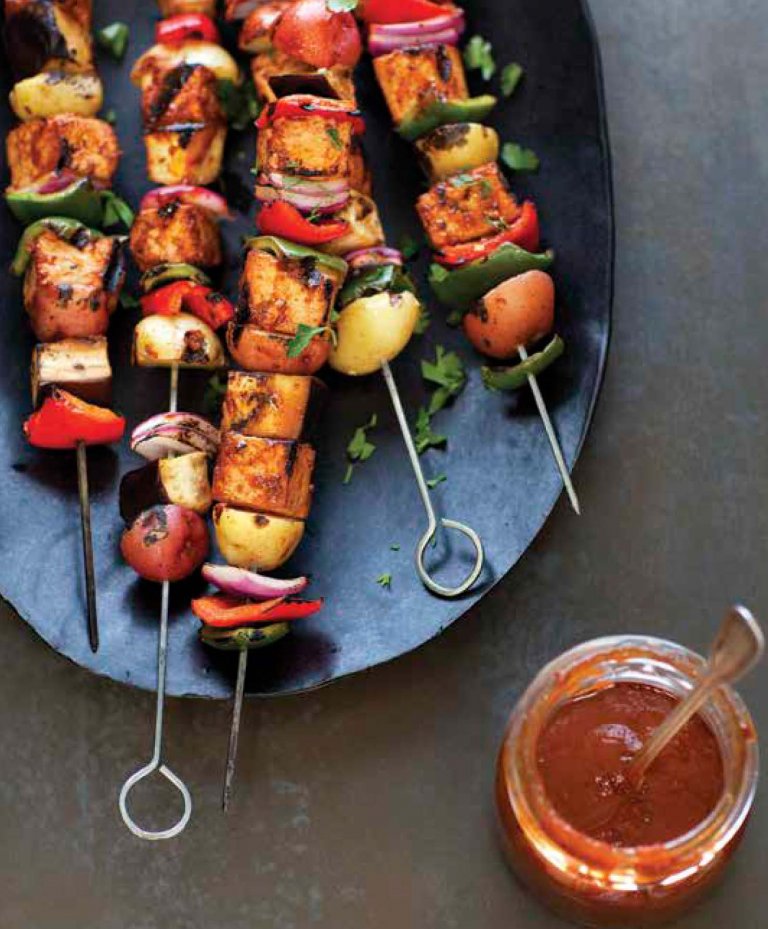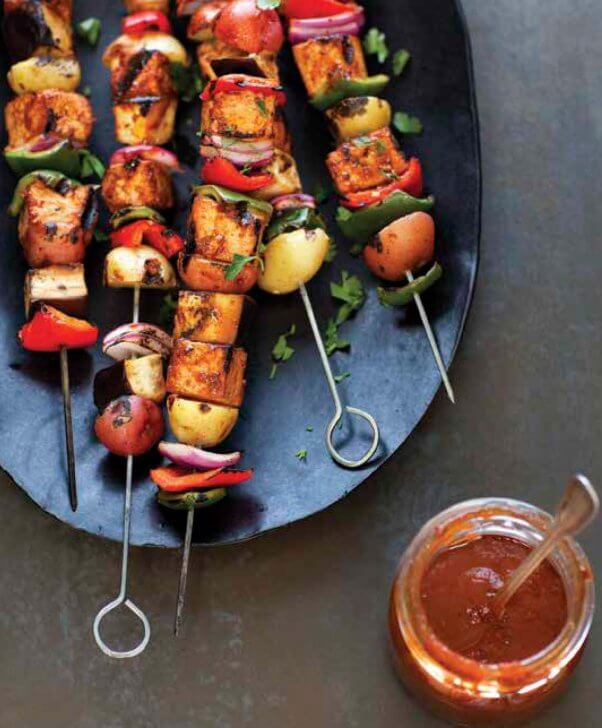 © 2014 by Paige Green
Recipes used with permission from Afro-Vegan by Bryant Terry, copyright © 2014. Published by TenSpeed Press, a division of Penguin Random House, Inc. Photography © 2014 by Paige Green
PETA is a participant in the Amazon Services LLC Associates Program, an affiliate advertising program designed to provide websites with a means to earn advertising fees by advertising and linking to Amazon.com.