Vegan
Pinky Cole's Drunken Mushrooms with Purple Potato Mash and Green Pea Purée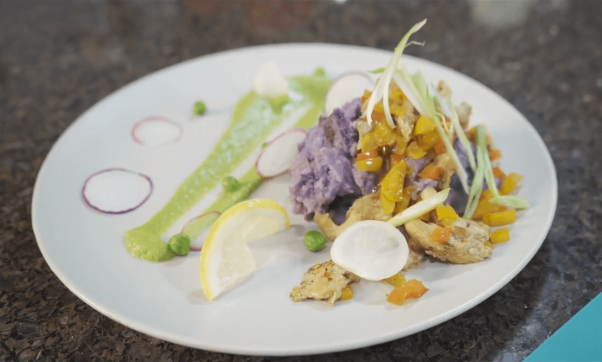 Print
Ingredients
1 2-oz. pkg.

onion soup mix

1 1/2 cups

vegetable broth

1 cup

oyster mushrooms, destemmed

1 cup

green peas

4

green onions, chopped

3

radishes, chopped

1 tsp.

red pepper flakes

1 1/2 tsp.

coarse ground pepper

2 tsp.

pink Himalayan sea salt

3/4 cup

vegan butter

1/2

red onion, chopped

1/2

red bell pepper, chopped

1/2

orange bell pepper, chopped

8 small

purple potatoes, boiled and drained

1/2 cup

unsweetened, plain vegan heavy cream

1/2 cup

shredded vegan mozzarella

1/2

lemon, sliced
Instructions
Combine the onion soup mix with 1/2 cup of the vegetable broth. Add the mushrooms and allow to marinate for 15 minutes. Remove the mushrooms and reduce the vegetable broth by half.
Place the remaining vegetable broth, the reduced vegetable broth, the peas, the green onions, the radishes, the red pepper flakes, and 1 teaspoonful each of the ground pepper and salt in a blender. Blend until smooth then set aside.
Melt ½ cup of the vegan butter in a saucepan over medium heat. Add the red onions and bell peppers and sauté until tender. Add the marinated mushrooms and cook until the mushrooms are lightly browned.
Place the potatoes and the cream along with the remaining ground pepper, salt, and vegan butter in a bowl. Mash together then stir in the vegan mozzarella.
Serve the mushrooms with the mashed potatoes and green pea purée and garnish with lemon slices.