Vegan
Easiest Vegan Chile Verde 'Chicken' Enchiladas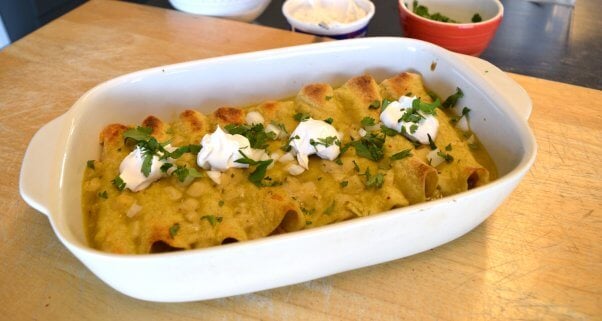 Print
Ingredients
Approximately 1/2 cup

neutral-tasting oil

1

clove garlic, minced

1/2

medium white onion, peeled and chopped

3 cups

vegan chicken

12

yellow corn tortillas

2 cans

green enchilada sauce

1/4 cup

cilantro, finely chopped
Instructions
Preheat the oven to 375°F.
In a large skillet, heat 1 teaspoonful of the oil. Add the garlic and onion and sauté until translucent. Add the vegan chicken and cook, stirring occasionally, until lightly browned. Transfer to a bowl and set aside to cool.
In the same skillet, heat 1 tablespoonful of the oil. Place a tortilla in the center and cook for about 10 seconds on each side, or until soft, then set aside on a paper towel. Repeat with the remaining tortillas, adding more oil as necessary.
Shred or chop the cooled vegan chicken into small pieces.
Coat the bottom of a baking pan with a shallow layer of the enchilada sauce.
Add a teaspoonful of the enchilada sauce, a small handful of the vegan chicken, and a sprinkling of the crumbled vegan cheese to each tortilla, reserving a handful of the vegan cheese. Roll tightly and line up in the baking pan.
Pour the remaining enchilada sauce over the rolled tortillas, covering the edges. Sprinkle with the remaining crumbled vegan cheese.
Bake until the sauce bubbles and the vegan cheese is melted, about 20 minutes.
Top with several dollops of the vegan sour cream and sprinkle with the cilantro. Serve immediately.
Makes 12 enchiladas