Vegan
Chocolate-Dipped Holiday Cookies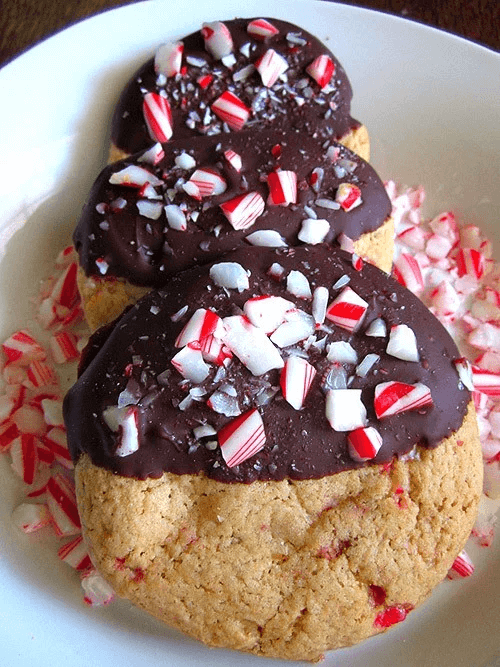 Print
Ingredients
1 cup

vegan butter

1/2 cup

sugar

1/2 cup

brown sugar

6 Tbsp.

unsweetened applesauce

1 1/2 tsp.

vanilla extract

2 drops

peppermint extract

2 3/4 cups

all-purpose flour

1 tsp.

salt

1/2 tsp.

baking soda

3/4 cup

crushed candy canes

1 cup

vegan chocolate chips, melted
Instructions
Preheat the oven to 375°F.
In a large mixing bowl, combine the vegan butter and both types of sugar. Add the applesauce and mix well then beat in the vanilla and peppermint extracts.
In a separate bowl, combine the flour, salt, and baking soda. Add one cup at a time to the sugar mixture then stir in 1/2 cup of the crushed candy canes.
Scoop about 2 tablespoonfuls of the dough at a time onto a parchment paper–lined baking sheet and flatten with the palm of your hand.
Bake for 10 minutes, or until the edges begin to brown. Place on wire racks and allow to cool.
Dip in the melted chocolate and top with the remaining crushed candy canes.
Makes about 25 cookies