Vegan
Chef Joya's Papa Poke Bowl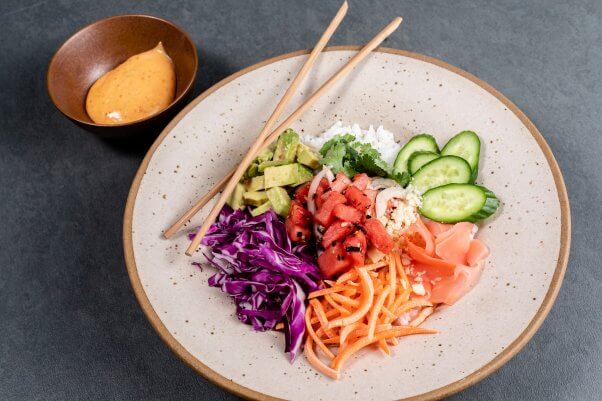 Print
Ingredients
For the vegan tuna/salmon:
1

papaya, cleaned and cut into 3/4-inch chunks

1

sweet onion, thinly sliced

1 1/2 Tbsp.

soy sauce, shoyu, or soy sauce with a bit of lemon juice

1 Tbsp.

sesame oil

1 tsp.

seaweed salt or kosher salt mixed with kelp flakes

1 tsp.

togarashi or crushed red pepper flakes

Dash rice wine vinegar
For the sushi rice:
1 cup

rice (any type)

1 1/2 cups

water

1 tsp.

minced ginger

1

green onion, thinly sliced
Optional toppings:
avocado

chopped macadamia nuts

cilantro

edamame

furikake

pickled ginger

radish

shredded carrots

shredded red cabbage

sliced cucumber

Sriracha aioli (vegan mayo, Sriracha, and lime juice)
Instructions
For the vegan tuna/salmon:
Mix the papaya chunks in a bowl with the sweet onion, soy sauce, sesame oil, seaweed salt, togarashi, and rice wine vinegar.
Cover and marinate for 4 to 6 hours.
For the sushi rice:
Rinse the rice in running water until the water runs clear.
Add the rice and water to a pot.
Bring to a boil, reduce the heat to low, cover, and simmer for 18 minutes.
Remove from the heat and let sit for 5 minutes.
Fluff with a fork and mix in the ginger and green onion.
To assemble the bowl:
Place some sushi rice in a bowl.
Add some vegan tuna/salmon mixture on top.
Add optional toppings of your choice.
For more flavor, add a dash of lime juice, ponzu, or additional soy sauce.
Adapted and published by permission of Chef Joya.