For Immediate Release:
October 3, 2023
Contact:
Nicole Perreira 202-483-7382
New York – To blast Whole Foods' continued sale of Thai coconut milk, even after learning that the country's coconut-picking industry is fueled by the labor of endangered pig-tailed macaques, PETA "monkeys" in prisoner garb will dump wheelbarrows full of humanely picked coconuts outside the Whole Foods store near Wall Street on Wednesday. The action follows PETA's successful campaign against HelloFresh, which will no longer obtain coconut milk from Thailand.
When:    Wednesday, October 4, 12 noon
Where:    Outside Whole Foods, 66 Broadway, New York
 Many monkeys used in Thailand's coconut-picking industry are illegally snatched from their forest homes as babies. Handlers fit them with rigid metal collars, use chains and leashes to choke and control them, and may pull out their canine teeth so that they can't defend themselves. Because the industry and the Thai government lie about their systemic reliance on forced monkey labor, it's impossible to guarantee thatany coconut milk from Thailand is free of it. Several companies that produce coconut milk brands sold at Whole Foods were named by industry workers in PETA Asia's latest investigation as having used coconuts obtained by monkey labor.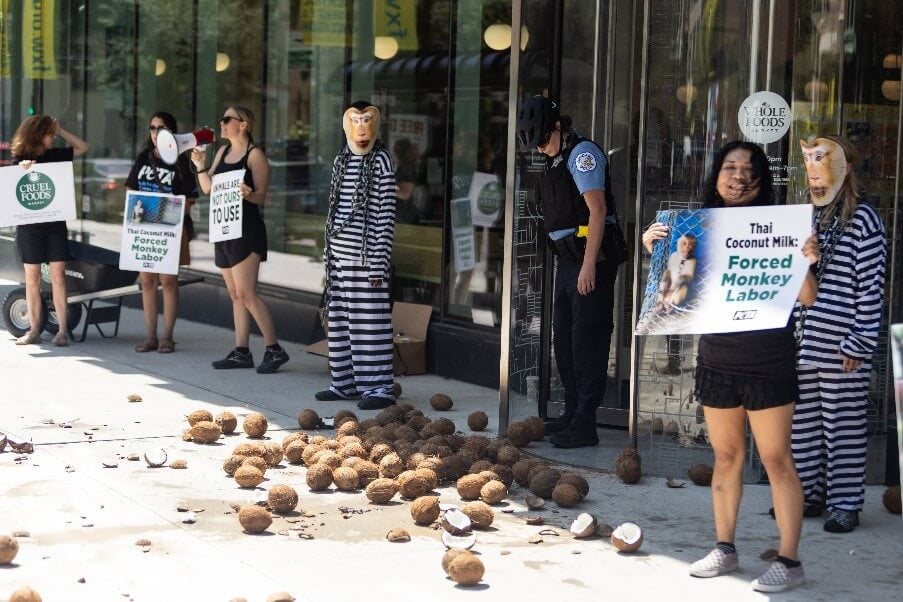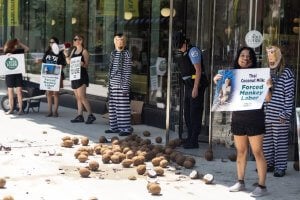 PETA dumps coconuts outside a Whole Foods store in a previous demonstration. Photo: PETA
"Whole Foods continues to sell coconut products implicated in PETA Asia's investigation, which is especially shameful for a company that claims to care about animals," says PETA Executive Vice President Tracy Reiman. "PETA is calling on Whole Foods to sell coconut milk only from countries where monkey labor isn't used, such as India, Indonesia, and the Philippines."
PETA—whose motto reads, in part, that "animals are not ours to abuse in any way"—opposes speciesism, a human-supremacist worldview.
For more information, please visit PETA.org, listen to The PETA Podcast, or follow the group on X (formerly Twitter), Facebook, or Instagram.