For Immediate Release:
October 2, 2023
Contact:
Sara Groves 202-483-7382
Louisville, Ky. – As the fishing industry tries to promote October as National Seafood Month, on Tuesday PETA supporters will hand out free vegan tuna next to a new message making waves among local bus commuters and compelling them to consider the hidden costs of their fish fillets. Washing up at bus shelters near Long John Silver's and other similarly fishy venues across the city, the ad campaign points out that fish aren't the only victims of the fishing industry—millions of other animals, euphemistically known as "bycatch," also die on its hooks and in its nets every year.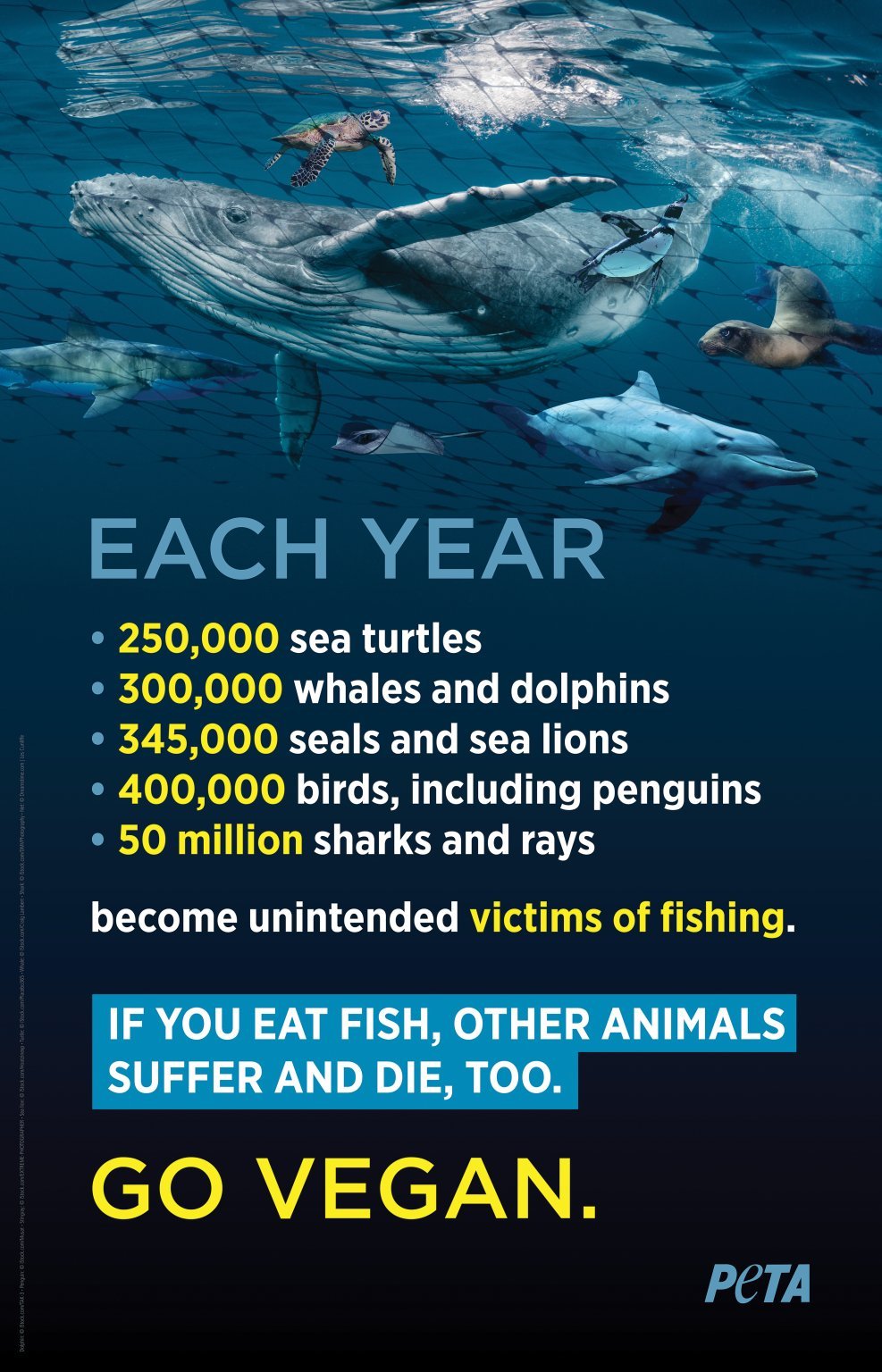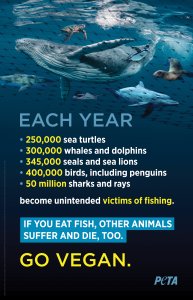 When:    Wednesday, October 4, 12 noon
Where:    Next to the bus shelter in front of Kroger, 5533 New Cut Rd., Louisville
"Dolphins, sea turtles, birds, sharks, and other animals are all collateral damage to fishers and big trawlers alike," says PETA President Ingrid Newkirk. "PETA urges conscientious consumers to leave all animals off their plates, for the sake of animals and the planet."
PETA notes that the fishing industry's unintentional kills are one of the biggest threats to marine biodiversity worldwide and have resulted in widespread species extinction, habitat destruction, and irreversible damage to ocean ecosystems. The industry is also terribly cruel to its intended victims: More fish are killed for food each year than all other animals combined. Fish feel pain as acutely as mammals do, have long-term memories, and sing underwater—yet they're impaled, crushed, suffocated, dropped into pots of boiling water, or cut open and gutted, often while they're conscious.
PETA—whose motto reads, in part, that "animals are not ours to eat" and which opposes speciesism, a human-supremacist worldview—offers a list of delicious vegan fish options, such as Gardein's f'sh filets, Sophie's Kitchen's Fish Fillets, and Good Catch Plant-Based Crab Cakes, as well as a free vegan starter kit to help people get hooked on vegan food.
PETA's message also appears on bus shelters next to the Walmart Supercenter at 175 Outer Loop and at 11401 Westport Rd.
For more information, please visit PETA.org, listen to The PETA Podcast, or follow the group on X (formerly Twitter), Facebook, or Instagram.