For Immediate Release:
July 13, 2022
Contact:
Megan Wiltsie 202-483-7382
Norfolk, Va. – "I had no idea it was as bad as this." Those are Doreen Dykes' words from a new PETA video that shows her reacting to footage of her beloved dog Henry, a Chihuahua mix—before he was rescued by PETA fieldworkers.
A longtime animal defender, Dykes and her late husband Jim cared for many animals together, but since his passing, she had been alone. Little dog Henry's adoption marked "the very first time I've taken on a companion animal of my own." She was visiting PETA's headquarters and shelter on the day PETA fieldworkers rescued Henry, and when she saw him, it was love at first sight. "He has these beautiful dark eyes," she says. "They're the softest, brownest eyes I've ever looked into."
But what she didn't know was that Henry had been kept chained in a backyard 24/7 along with five other dogs, ravaged by fleas and with scant food or water—and when she saw the video, she was shocked. "So he was almost a little skeleton," she says. "How terrible!"
Today, Henry is virtually unrecognizable. With his new guardian's help and some desperately needed veterinary care—including treatment for heartworm disease—he has made a full recovery, and the pair now enjoy walks together and time in their sun-soaked flower garden. Meanwhile, the person responsible for Henry's previous condition has been charged with cruelty to animals, almost all the dogs have been removed from her property, and PETA is working to get the last dog there rescued as well.
"PETA rescued Henry in the nick of time, but countless other dogs like him are suffering out of sight, chained in backyards this burning-hot summer," says PETA Senior Vice President of Cruelty Investigations Daphna Nachminovitch. "PETA encourages everyone to keep their dogs indoors with the rest of the family, remind others to do the same, and always come to the aid of animals in need like Henry."
To help every dog's story end as happily as Henry's, PETA urges everyone to alert law-enforcement authorities to any dog kept chained or penned outside 24/7 without adequate shelter and to push for dog-chaining bans in their communities. PETA also builds and delivers sturdy doghouses to dogs in need, free of charge—with help from compassionate people like the Dykeses, who together funded more than 100 doghouses, earning them a plaque of honor on the wall of PETA's doghouse-building shop.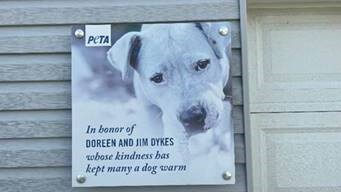 PETA—whose motto reads, in part, that "animals are not ours to abuse in any way"—opposes speciesism, a human-supremacist worldview. For more information, please visit PETA.org or follow the group on Twitter, Facebook, or Instagram.