For Immediate Release:
November 10, 2023
Contact:
Tasgola Bruner 202-483-7382
Madison, Wis. – Today, PETA is urging the National Institute on Aging (NIA) to immediately pull its taxpayer-funded grant for a barbaric sleep deprivation experiment on tiny marmoset monkeys scheduled to take place at the University of Wisconsin–Madison. The study was proposed by University of Massachusetts–Amherst experimenter Agnès Lacreuse and would blast the marmosets with sounds as loud as those of a lawn mower for six minutes every 15 minutes for three nights a week for an unknown number of weeks, supposedly to learn something about human Alzheimer's disease. PETA also filed a complaint with the U.S. Department of Agriculture today.
Lacreuse originally proposed and secured funding from the NIA, part of the National Institutes of Health, for the experiment in 2021. It was supposed to take place at UMass, but for reasons that haven't been made public, Lacreuse changed the location to the Wisconsin National Primate Research Center (WNPRC), which is run by UW-Madison. But recent public meetings of the university's Institutional Animal Care and Use Committee revealed that the facility is unprepared and ill-equipped to conduct it.
This lack of competency, along with two major misrepresentations in Lacreuse's grant application, prompted PETA to demand that the funds be cut and the study canceled. Her proposal to NIA included the following:
Lacreuse claimed that non-animal methods were impossible and that no human data were available about the role that sleep disturbance plays in Alzheimer's disease. But multiple NIH-funded studies using human volunteers have already investigated this connection, suggesting that she may have deliberately overstated the importance of the experiment to secure funding.
Lacreuse designated UMass as the proposed location of the study, took taxpayers' money on that basis, and then switched the site to UW-Madison, which for two years hasn't been able to resolve its issues.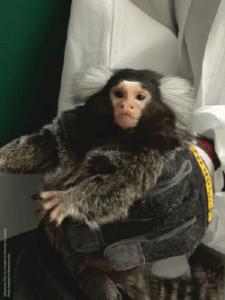 A marmoset is handled by a gloved experimenter. Photo: PETA
"If anyone needs to wake up, it's Agnès Lacreuse and anyone else who thinks that this boondoggle is going contribute to anything but monkey misery," says PETA neuroscientist Dr. Katherine Roe. "PETA is calling on the NIA to shut down Lacreuse's ridiculous monkey torment pipe dream."
Additional information about the WNPRC's lengthy history of neglecting animals is available here and PETA's blog about the cruel sleep fragmentation experiments.
PETA—whose motto reads, in part, that "animals are not ours to experiment on"—opposes speciesism, a human-supremacist worldview. For more information on PETA's investigative newsgathering and reporting, please visit PETA.org, listen to The PETA Podcast, or follow the group on X (formerly Twitter), Facebook, or Instagram.