For Immediate Release:
November 16, 2023
Contact:
Nicole Perreira 202-483-7382
Palm Beach Gardens, Fla. – Ahead of Thanksgiving, a PETA "chick" wearing a turkey-themed outfit—complete with a festive faux-feather tutu—will give away turkey-free holiday roasts in front of Trader Joe's on Sunday to encourage people to enjoy a vegan holiday and give birds a break.
When:     Sunday, November 19, 12 noon
Where:    In front of Trader Joe's, 2560 PGA Blvd., Palm Beach Gardens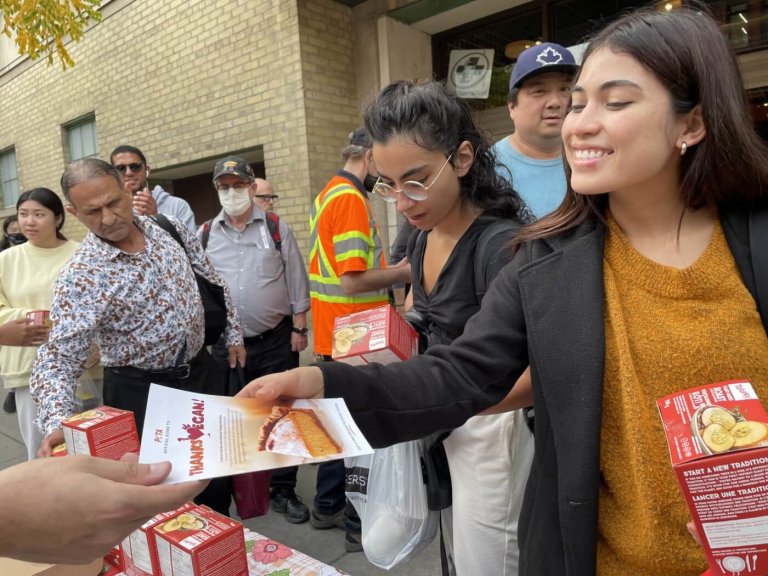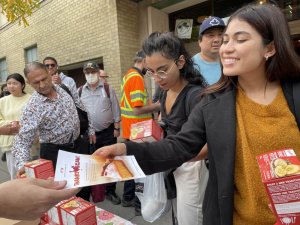 PETA supporters at a previous vegan roast giveaway. Credit: PETA
"Turkeys feel pain and fear, experience joy, value their lives, and don't deserve to be carved up and stuffed any more than we do," says PETA Executive Vice President Tracy Reiman. "PETA's tutu-wearing 'turkeys' are urging everyone to show a little mercy by tucking into savory, satisfying vegan roasts that give everyone something to be thankful for."
PETA—whose motto reads, in part, that "animals are not ours to eat" and which opposes speciesism, a human-supremacist worldview—offers a "ThanksVegan" recipe guide.
For more information, please visit PETA.org, listen to The PETA Podcast, or follow the group on X (formerly Twitter), Facebook, or Instagram.