Canadians are starting to prepare for the country's Thanksgiving, which is in mid-October. But this year, PETA is officially dubbing the holiday "ThanksVegan"—and we're inviting you to join in the animal-friendly celebration!
How to Create a Canadian ThanksVegan Menu
Make a feast complete with roast, stuffing, potatoes, gravy, and more—all without animal body parts or fluids. PETA has you covered if you want to get creative in the kitchen this year. Here are just a few standard Canadian ThanksVegan recipes to get you started:
The Best Vegan Meatloaf Recipe
Maple-Sriracha Roasted Brussels Sprouts with Cranberry Wild Rice
Browse Even More Free Vegan Recipes
Stores Providing Vegan Options Across Canada
Want to make whipping up your ThanksVegan dinner as easy as possible? While many vegan ingredients like Brussels sprouts and canned pumpkin are available at almost any grocery store in Canada, here's a list of chains that are celebrating ThanksVegan by selling vegan roasts and other delicious products this year:
Atlantic Superstore
Bloor Street Market
Dominion
Fortinos
Independent City Market
Loblaws
Loblaws CityMarket
No Frills
Real Canadian Superstore
Safeway
Save-On-Foods
Sobeys
Urban Fare
Valu-mart
Your Independent Grocer
Zehrs
To help you when grocery shopping, we've put together a full list of vegan products and where to find them in Canadian stores.
Get Inspired for ThanksVegan With These Vegan Canadian Influencers
Gravy and potatoes are great, but why not think outside the boxed stuffing? These vegan Canadian influencers offer simple ways to max out flavor and fun this ThanksVegan:
Rose of Cheap Lazy Vegan specializes in inexpensive vegan recipes for people who don't know how to cook. Check out her traditional Korean dishes and other simple, flavorful meals.
Afia Amoako's blog is full of colorful and healthy vegan recipes. Brighten up your ThanksVegan menu with any of her comforting vegan stews, soups, bowls, or other dishes.
Bodybuilder Derek of Simnett Nutrition offers a variety of tasty, whole-food vegan recipes. Elevate any of your ThanksVegan dishes with his signature homemade sauces.
Lauren Toyota of Hot for Food specializes in restaurant-quality vegan comfort food. Impress your friends and family this ThanksVegan with one of her many holiday recipes, like this delicious stuffed acorn squash.
Celebrate ThanksVegan With PETA by Sharing Our Billboards' Message
If you're waiting for a sign to go vegan, this is it! The COVID-19 pandemic has made it clear to the world that slaughtering animals for food, fur, or other human interests could be the death of us all. Canadian farms and slaughterhouses are just as filthy as "wet markets" like the one where the novel coronavirus is believed to have originated. The only way to prevent future pandemics is to stop killing animals now. That's why PETA is encouraging people across Canada to go vegan this Thanksgiving and every day after.
As part of a national ad campaign urging everyone to give turkeys a break and celebrate this year's holiday with a vegan feast, PETA has launched "I'm ME, Not MEAT" billboards across Canada.
Check out our new billboards, which are located near grocery stores and helping to spread this vital message:
Turkeys are caring parents and spirited explorers who can live up to 10 years, but those raised for food are normally slaughtered when they're between 12 and 26 weeks old—and millions are killed each year for Thanksgiving alone. The young birds are hung by their feet from metal shackles and dragged through an electrified bath, and they're often still conscious when their throats are slit and they're dumped into scalding-hot defeathering tanks.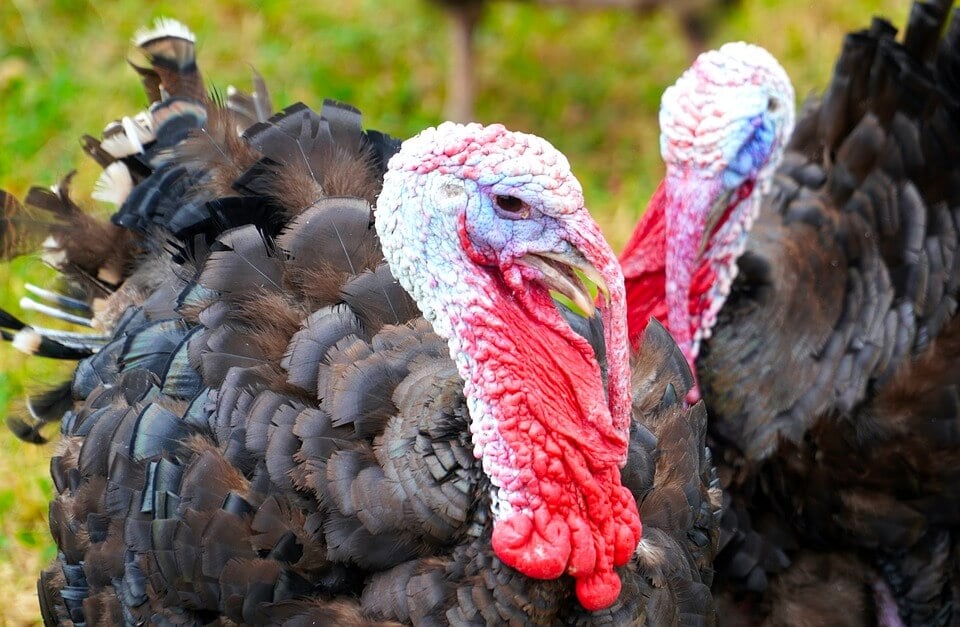 *****
Download PETA's free ThanksVegan Holiday Guide for delicious holiday recipes, tips, and advice for answering difficult questions at the dinner table!
Going vegan is easier now than ever—and PETA is making it even simpler. Request a vegan starter kit to go vegan just in time for the ThanksVegan holiday. For the sake of us all, share this blog post with a friend to help them go vegan today!