For Immediate Release:
June 30, 2022
Contact:
Nicole Meyer 202-483-7382
Seattle – Featuring Sir Paul McCartney and his push for Starbucks to end the surcharge on vegan milks, a new sky-high message from PETA just popped up near the coffee chain's headquarters in the SoDo district. The can't-be-missed plea is capping off a successful Week of Action that included rallies at more than a dozen Starbucks locations across the U.S., mobilizing supporters to blast the company on social media, blitzing its phone lines, and more.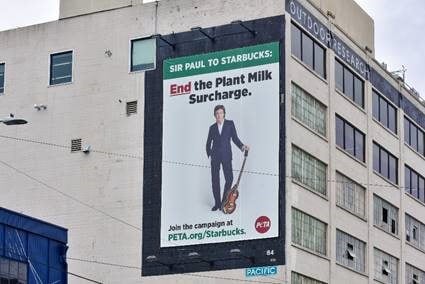 "Starbucks in the USA has an extra charge for plant-based milks as opposed to cow's milk. I must say this surprised me as I understand that in other countries there is the same charge for both types of milk and I would like to politely request that you consider this policy also in Starbucks USA," wrote McCartney in a widely read letter to former Starbucks CEO Kevin Johnson. "I sincerely hope that for the future of the planet and animal welfare you are able to implement this policy."
With a little help from his friends, McCartney could make that happen: Over 196,000 people have already urged Starbucks to drop the surcharge, award-winning actor James Cromwell recently joined the campaign by gluing his hand to a Manhattan Starbucks store counter in protest, and two local activists were arrested doing the same at the company's headquarters, where PETA supporters have held over 100 days of daily sit-ins. They've also rallied outside CEO Howard Schultz's lakeside gated community in Madison Park. In addition, PETA has offered McCartney fans informative animal rights materials and vegan starter kits at every stop along his national tour, including Seattle.
PETA notes that the dairy industry is a major producer of the greenhouse gases that contribute to the climate catastrophe and is responsible for immense animal suffering. Starbucks has acknowledged that dairy is the company's biggest contributor to its carbon footprint and proclaimed that it will strive to offer more plant-based foods and drinks as part of its sustainability solution but has refused to make these options more accessible by dropping the surcharge. Cows used for dairy are artificially inseminated—workers insert an arm into the animals' rectum and a metal rod to deliver semen into their vagina—and then sent to slaughter when their bodies give out.
The billboard is located at 2218 First Ave. S., Seattle.
PETA—whose motto reads, in part, that "animals are not ours to eat"—opposes speciesism, a human-supremacist worldview. For more information, please visit PETA.org or follow the group on Twitter, Facebook, or Instagram.