Dr. Agustín Fuentes: Macaque Could Intentionally Act to Create the Famous Photograph
For Immediate Release:
August 8, 2016
Contact:
David Perle 202-483-7382
San Francisco – Professor and primatologist Dr. Agustín Fuentes, chair of the University of Notre Dame's anthropology department, has just issued his expert opinion in support of PETA's appeal of its "monkey selfie" lawsuit and is asking the U.S. federal court in San Francisco to declare Naruto, a macaque, the author and owner of his internationally famous selfie photographs under the U.S. Copyright Act.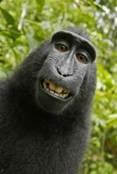 In an amicus curiae or "friend of the court" brief, filed with the U.S. Court of Appeals for the Ninth Circuit, Dr. Fuentes writes that current research supports PETA's position that macaques have the mental and physical capacity to undertake intentionally the series of actions that resulted in the photographs' creation. He points out that macaques have especially high levels of social cognition, making it likely that Naruto had observed human manipulation of a camera and grew curious to try it on his own—a natural development for a species with a strong tendency to engage in object manipulation, such as hitting snail shells with rocks to crack open and retrieve the snail. He also writes that macaques have individual personalities and use different facial expressions—such as those that Naruto made while gazing at his reflection and pressing the camera's button to make the shutter close and click.
"When science and technology advance, the law adapts," says general counsel to PETA Jeffrey Kerr. "PETA is simply asking for an interpretation of the Copyright Act that acknowledges today's scientific consensus that macaque monkeys can create an original work."
Highly intelligent crested macaques are critically endangered—their numbers have decreased by approximately 90 percent over the last 25 years as the result of losing their habitat to human encroachment, being killed by humans in retribution for eating crops, and being trapped and slaughtered for meat. PETA seeks the court's permission to manage the copyright in the photos, license them for commercial use, and use 100 percent of the proceeds to benefit Naruto and his community, without compensation to PETA.
For more information, please visit PETA.org or PETA's blog.