After Deputies Remove Jar From Animal's Head, Group Reminds Everyone to Protect Wildlife by Sealing Jars, Crushing Cups and Cans
For Immediate Release:
October 23, 2019
Contact:
Megan Wiltsie 202-483-7382
Tampa, Fla. – A Compassionate Police Department Award is on its way from PETA to the Hillsborough County Sheriff's Office after deputies sprang into action on October 16 when they spotted a raccoon whose head was stuck in a jar. Video footage shows the raccoon climbing a tree—and Deputy Mike Grace climbing up after him and then gently nudging him onto the sheet that other deputies were waiting to catch him with. Deputies safely removed the jar, and the raccoon ran off, unharmed.
"If these compassionate deputies hadn't intervened, this raccoon could have easily faced a miserable death by starvation or dehydration," says PETA Vice President Colleen O'Brien. "PETA hopes this story will inspire everyone to look out for animals in need—and prevent predicaments like this one by sealing jars and crushing cans before disposing of them."
PETA has tips on its website for living in harmony with wildlife and disposing of trash properly, including by tightly sealing all garbage in chew-proof containers, rinsing out aluminum cans and dropping the pop-tops inside so that they can't cut an animal's tongue, crushing cans, putting the tops back on bottles and jars, and cutting open empty cardboard and plastic containers so that small animals can't get their faces or heads trapped inside them.
The Hillsborough County Sheriff's Office will receive a framed certificate, a box of delicious vegan cookies, and copies of PETA's posters reminding everyone to replace lids and crush all cans and containers, which the office can distribute.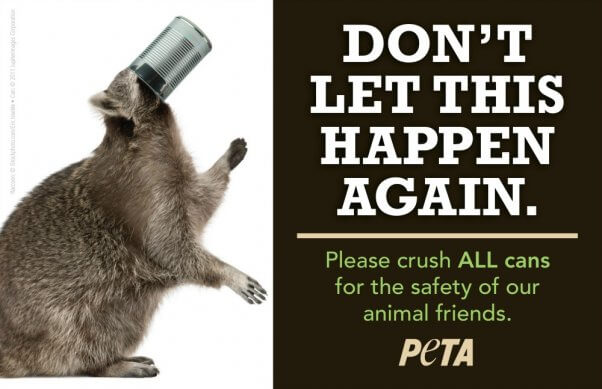 PETA—whose motto reads, in part, that "animals are not ours to abuse in any way"—opposes speciesism, which is a human-supremacist view that other animals are nothing more than disposable objects. For more information, please visit PETA.org.
#