For Immediate Release:
September 27, 2023
Contact:
Nicole Perreira 202-483-7382
Charlotte, N.C. – On Friday, a pack of "polar bears" will pound the pavement to the Starbucks store at Midtown Plaza to urge the company to stop charging customers extra for vegan milk—which incentivizes them to opt for dairy, even though the industry is a top producer of the greenhouse gases that are contributing to melting the ice caps, killing polar bears, and otherwise driving the climate catastrophe. The pleading "bears" are the latest action in PETA's campaign calling on Starbucks to end the upcharge for vegan milks, which the company already agrees are better for the planet.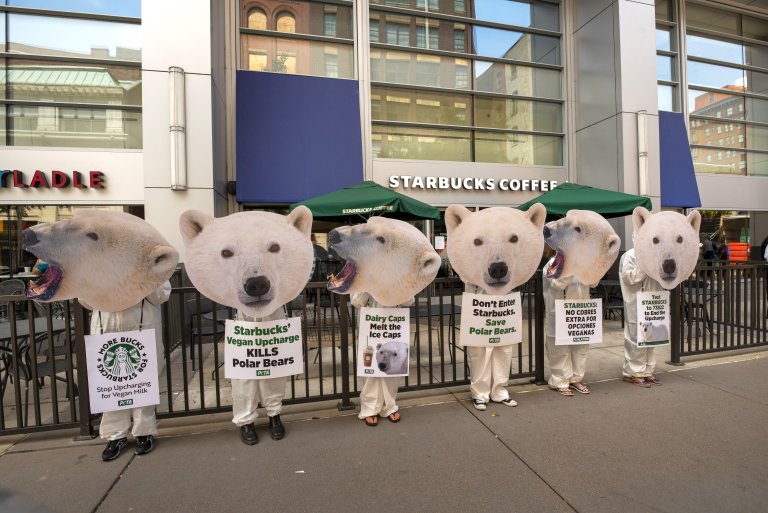 Photo: PETA
When:    Friday, September 29, 12 noon
Where:    212 S. Tryon St. (between W. Third and W. Fourth streets), Charlotte
"Starbucks admits that it has a massive carbon footprint from its use of dairy, yet the company still refuses to put the planet over profits," says PETA Executive Vice President Tracy Reiman. "PETA is calling on Starbucks to end the shameful vegan milk surcharge and give a frap about the polar bears who die on melting ice caps and the cows forcibly impregnated for dairy."
PETA—whose motto reads, in part, that "animals are not ours to eat or abuse in any other way"—opposes speciesism, a human-supremacist worldview, and offers a free vegan starter kit on its website.
For more information, please visit PETA.org, listen to The PETA Podcast, or follow the group on X (formerly Twitter), Facebook, or Instagram.