For Immediate Release:
September 26, 2023
Contact:
Tasgola Bruner 202-483-7382
Baton Rouge, La. – A Louisiana appeals court has ruled that Louisiana State University (LSU) must turn over records of taxpayer-funded experiments on birds conducted by assistant professor Christine Lattin.
The ruling of the Louisiana Court of Appeal, First Circuit, requires the university to turn over all veterinary-care records for birds who have been captured, held at LSU, tormented, and killed in Lattin's experiments; certain videos of her experiments; and any records related to her successful attempt to change Baton Rouge's bird-protection ordinance. The city ordinance prohibits trapping or harming wild birds, but it was changed in 2020 to exempt experimentation, apparently following pressure from Lattin.
PETA filed its lawsuit in December 2020 after the school failed to release documents pursuant to PETA's public records requests. Last year, the trial court also ordered LSU to pay PETA over $73,500 in attorney's fees and costs.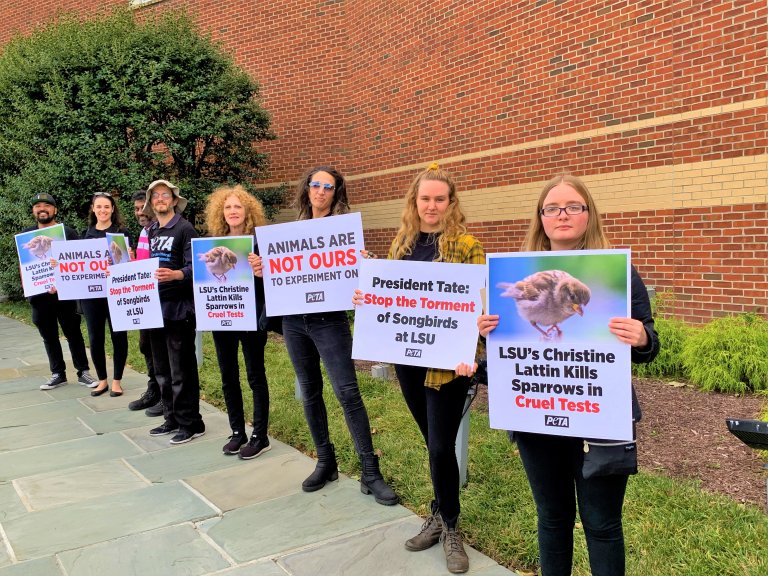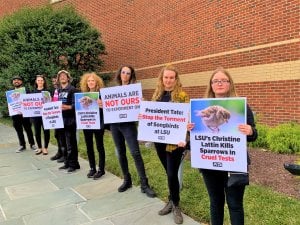 PETA supporters protest Lattin's experiments. Photo: PETA
"LSU hoped to keep the public in the dark about what Christine Lattin actually does to birds in her lab," says PETA Senior Vice President Kathy Guillermo. "As PETA publicizes Lattin's horrors, it expects that taxpayers will be stunned to see what passes as science at LSU."
Since at least 2008, Lattin has trapped hundreds of wild birds for her curiosity-driven experiments, in which she has pumped them full of drugs and hormones, fed them crude oil, wounded their legs, plucked their feathers, exposed them to terrifying predator sounds, and forced them to endure other torment. At the end of the experiments, she kills them.
New Orleans-based attorney Alysson Mills represented PETA at trial and on appeal.
PETA—whose motto reads, in part, that "animals are not ours to experiment on"—opposes speciesism, a human-supremacist worldview. For more information, please visit PETA.org, listen to The PETA Podcast, or follow the group on X (formerly Twitter), Facebook, or Instagram.