For Immediate Release:
June 30, 2021
Contact:
David Perle 202-483-7382
Myrtle Beach, S.C. – As people head to the beach for the holiday weekend, they're likely to catch sight of PETA's giant mobile billboard urging them not to stop at Waccatee Zoo, dubbed the "Worst Roadside Zoo in America" by the watchdog group. The ad features Lil Trix, a solitary baboon who sways back and forth at the roadside zoo, imprisoned for life inside a barren wire enclosure.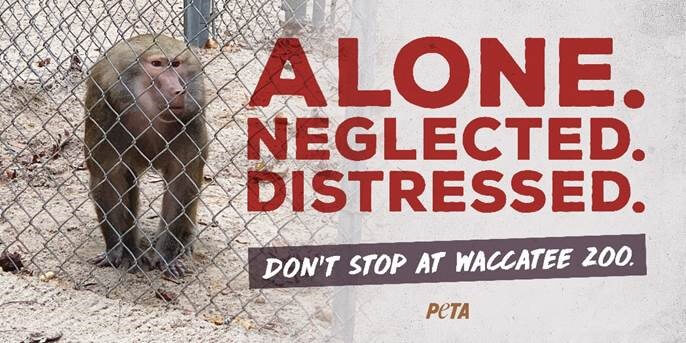 Other animals at Waccatee Zoo frequently exhibit what experts have identified as signs of extreme psychological distress, including long-tailed macaques who have been seen attacking their own limbs, black bears who pace habitually, and a solitary capuchin who is often seen shaking, clutching, and biting himself.
"Waccatee Zoo is hell on Earth for the isolated animals locked in barren cages there and serving a life sentence through no fault of their own," says PETA Foundation Associate Director of Captive Animal Law Enforcement Michelle Sinnott. "PETA stands ready to help this pit send the animals to reputable facilities where they will get the care they deserve and so desperately need."
In March, an ailing tiger named Lila was confirmed dead at the roadside zoo after months of wasting away, losing fur, and pacing in endless circles inside her cage. In May, the U.S. Department of Agriculture cited Waccatee after it left two limping sheep to suffer without veterinary care, failed to provide animals with clean water, and neglected safety protocols, leading to the escape of a capuchin monkey during the inspection.
PETA—whose motto reads, in part, that "animals are not ours to use for entertainment"—opposes speciesism, a human-supremacist worldview. For more information, please visit PETA.org or follow the group on Twitter, Facebook, or Instagram.
The billboard will circulate from July 1 to 5 for eight hours each day.