Turkey Company Urged to Address History of Truck Crash Failures
For Immediate Release:
September 25, 2023
Contact:
Brittney Williams 202-483-7382
Pittsylvania County, Va. – After North Carolina–based turkey supplier Circle S Ranch Inc. allowed turkeys in shattered cages strewn along the road to suffer for at least five hours following a recent truck crash in Pittsylvania County, PETA rushed a letter to General Manager Ronnie Parker urging him to implement vital measures to prevent and better respond to future crashes. This is the fifth case in recent years in a two-county area in which Circle S Ranch took at least four hours to arrive at a crash site where birds lay dying.
According to records just obtained via a Freedom of Information Act (FOIA) request, the truck driver told the Virginia State Police that he lacked contact information for Circle S Ranch representatives who could assist with this emergency. Authorities struggled to contact Circle S Ranch staff for over two hours, at which point company reps told them that it would take another three hours for anyone to arrive to start recovering the turkeys.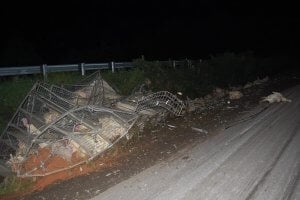 A Virginia State Police image of the crash scene obtained via a FOIA request. More photos are available here.
PETA notes that Circle S Ranch previously agreed to implement an emergency-response plan for accidents involving trucks carrying live turkeys following the group's work with the Virginia State Police and a prosecutor—but the company has not made good on its promises.
"For years, Circle S has faced pressure from authorities and the public to improve its response to crashes, but birds are still ending up mangled, crushed, and left to suffer for hours," says PETA Vice President of Evidence Analysis Daniel Paden. "PETA is calling on Circle S Ranch to finally heed concerns and rush qualified personnel to wrecks, and we urge the public to help prevent birds from suffering on roadsides or at slaughterhouses by eating vegan."
PETA—whose motto reads, in part, that "animals are not ours to eat" and which opposes speciesism, a human-supremacist worldview—points out that turkeys, chickens, pigs, cows, sheep, and other animals feel pain and fear and value their lives, just as humans do. For more information, please visit PETA.org, listen to The PETA Podcast, or follow the group on X (formerly Twitter), Facebook, or Instagram.