For Immediate Release:
November 1, 2022
Contact:
Robin Goist 202-483-7382
Montréal – Just in time for holiday shopping, vegan outerwear brand NOIZE is joining forces with PETA for a can't-be-missed window display at its flagship store downtown, urging shoppers to keep their wardrobes free from leather, down, wool, and fur—all of which are obtained at enormous expense to animals' well-being and lives. Featuring etched images of a cow, a duck, a sheep, and a coyote, the "Compassion in Fashion" message will greet shoppers and passersby.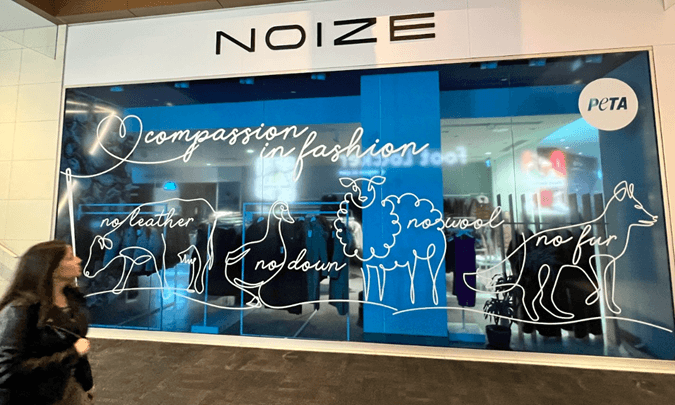 "Fur, fleece, feathers, and skin belong on their original owners—the ones who were born to wear them," says PETA Executive Vice President Tracy Reiman. "With this eye-catching and powerful display, PETA urges everyone to feel warm inside and out by choosing animal-free materials, just like those sold by NOIZE."
Dozens of eyewitness videos have revealed workers hitting, kicking, and mutilating gentle sheep for their wool; burning, electroshocking, beating, and slaughtering cows for leather; yanking out the feathers of ducks and geese by the fistful for down; and trapping coyotes with painful steel-jaw traps for fur.
Nine out of 10 Gen Z consumers—who, together with millennials, boast nearly $480 billion CAD in spending power in the U.S. alone—say that companies' business practices should reflect mindfulness of environmental and social issues. To help meet the growing demand for sustainable, animal-friendly products, PETA Business Friend NOIZE offers jackets crafted with vegan leather, parkas stuffed with recycled polyester, puffers trimmed with faux sherpa, and more.
NOIZE's Centre Eaton de Montréal shop is located at 705 W. Sainte-Catherine Street, Unit 3523.
 PETA—whose motto reads, in part, that "animals are not ours to wear"—opposes speciesism, a human-supremacist worldview. For more information, please visit PETA.org or follow the group on Twitter, Facebook, or Instagram.