For Immediate Release:
November 1, 2022
Contact:
David Perle 202-483-7382
Tampa, Fla. – On Thursday, giant inflatable elephants will be chained and beaten by "circus performers" in fez hats outside the Shriners International headquarters to launch PETA's campaign—complete with a campaign logo featuring a Shriner's fez and a "Stop Shriners' Cruel Animal Circuses" message—pushing Shriners to modernize their circuses by making them animal-free, just as the Ringling Bros. and Barnum & Bailey Circus is doing.
When:    Thursday, November 3, 12 noon
Where:    Shriners International, 2900 N. Rocky Point Dr., Tampa
Shrine circuses, including the notorious Hadi, Yaarab, Moolah, and Sharon Shrine circuses, are among the very last remaining shows that still deprive wild animals of any semblance of a natural life. They partner with abusive exhibitors who confine the animals to small crates, keep them in shackles, and hit them with whips, electric prods, and bullhooks—a weapon resembling a fireplace poker with a sharp hook on one end.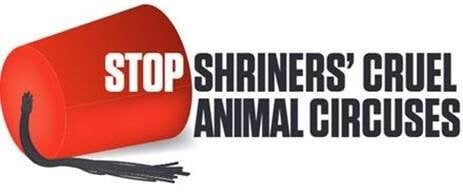 "Cruelty takes center stage at Shrine circuses, where animals are abused and forced to perform demeaning tricks," says PETA Executive Vice President Tracy Reiman. "PETA is calling on Shriners International to adopt a policy banning all animal acts, as numerous other circuses have done."
PETA—whose motto reads, in part, that "animals are not ours to use for entertainment"—opposes speciesism, a human-supremacist worldview. For more information, please visit PETA.org or follow the group on Twitter, Facebook, or Instagram.