For Immediate Release:
October 27, 2022
Contact:
David Perle 202-483-7382
Lexington, Ky. – In advance of Halloween and the upcoming Breeders' Cup races at Keeneland Race Course, a PETA supporter has transformed her front yard into a creepy equine "graveyard" with a message that can't be missed. Fourteen tombstones, each bearing the name of one of the Thoroughbreds who died on Kentucky tracks in the past year, surround a large statue of a horse with a broken leg—just like the real horses who were raced to death. The statue, a dark take on the local "Horse Mania" exhibit, has a saddle cloth that reads, "24 Horses Die Weekly on U.S. Tracks."
Horse-shaped candies will be distributed to trick-or-treaters, if they don't lose their appetites after seeing the display.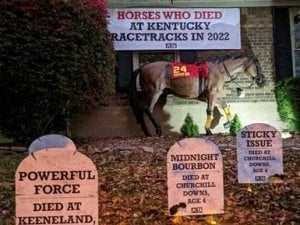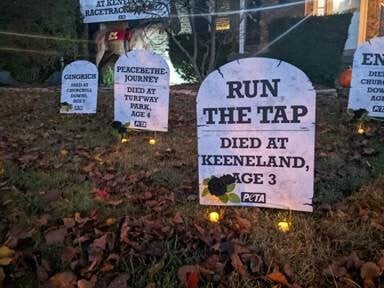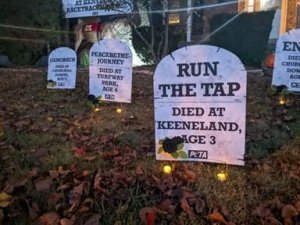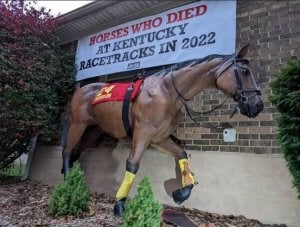 The "graveyard" can be found at 453 Fox Harbour Dr., near the intersection with Lauren Way. 
"If all the horses who have died on racetracks in Kentucky were actually buried in this neighborhood, it would take the entire block, not just one front yard," says PETA Senior Vice President Kathy Guillermo. "But the message is clear: Horse racing deaths shouldn't be hidden—they should be prevented." 
PETA recommends that Keeneland replace its dirt track with one that has a high-quality synthetic surface, which is, according to statistics from The Jockey Club, the safest racing surface. The track reduced deaths in 2006 when it installed a synthetic running surface, but, bowing to pressure from owners and trainers, it switched back to dirt and fatalities increased.
Exclusive graphic video of the fatal injury sustained by Mongolian Groom in the 2019 Breeders' Cup Classic in California, released by PETA, shows exactly what happens when horses' bones shatter on racetracks. 
PETA—whose motto reads, in part, that "animals are not ours to use for entertainment"—opposes speciesism, a human-supremacist worldview. For more information, please visit PETA.org or follow the group on Twitter, Facebook, or Instagram.