PETA's Advisories Alert Animal Guardians That Pavement Can Scorch Sensitive Paw Pads
For Immediate Release:
August 19, 2019
Contact:
Nicole Meyer 202-483-7382
Oklahoma City – As summer heat continues, PETA has placed ads at bus shelters and on benches near city parks showing a dog with a bandaged foot alongside the words "Hot Streets Can Burn Dogs' Feet."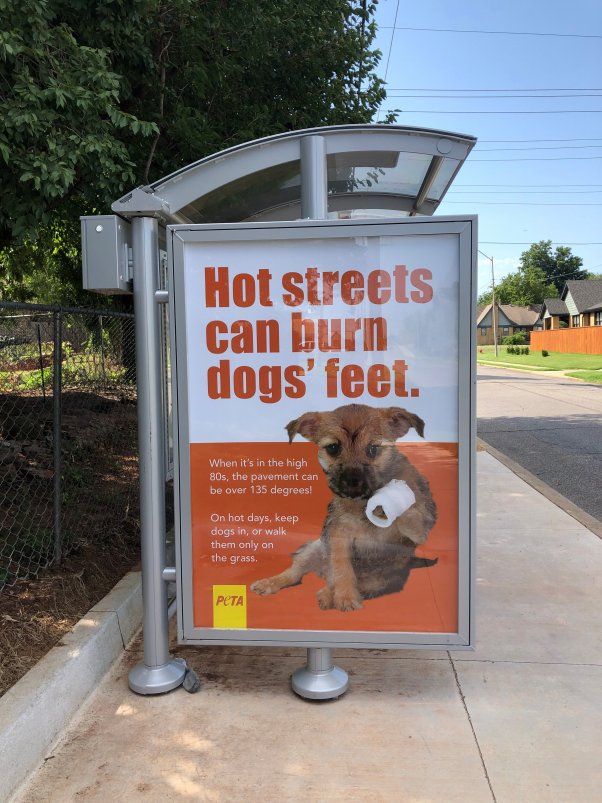 PETA points out that even a few minutes' contact with hot pavement can seriously injure dogs' sensitive paws. On an 87-degree day, asphalt temperatures can reach 140 degrees—hot enough to cause burns and permanent damage after just one minute of contact. Hot sidewalks also reflect heat onto dogs' bodies, increasing their risk of suffering from deadly heatstroke. PETA encourages all canine guardians to test the pavement with a hand before setting out, walk their dogs on grass and early in the morning or late at night (when it's cooler), carry water, take frequent breaks in shady spots, and never make dogs wear muzzles that restrict their breathing or panting.
"On hot pavement, dogs' sensitive paw pads can fry," says PETA President Ingrid Newkirk. "PETA's eye-catching signs remind people to take simple steps when walking their dogs so that every moment isn't agony."
PETA—whose motto reads, in part, that "animals are not ours to abuse in any way"—also urges people not to leave animals inside vehicles in hot weather. Temperatures can quickly soar in parked cars, and a dog trapped inside one can die of heatstroke within minutes—even if the vehicle is in the shade with the windows slightly open, which has little to no effect on lowering the temperature inside.
PETA opposes speciesism, which is a human-supremacist worldview. A complete list of PETA's ad locations follows. For more information, please visit PETA.org.
'Hot Streets Can Burn Dogs' Feet' Ads
3701 N.W. 36th, at the intersection with N. Portland Avenue, near Will Rogers Park and historic gardens (bench)
901 S. Western Ave., near the intersection with Wheeler Park Drive, close to Wheeler Park (bench)
1375 N. Martin Luther King Ave., at the intersection with N.E. 13th Street, close to John F. Kennedy Park (bus shelter)
13658 McAuley Blvd., near the intersection with W. Memorial Road, close to Greens Park and Martin Park Nature Center (bus shelter)
2100 N. Kelley Ave., near the intersection with N.E. 20th Street, close to Nichols Court Park, McMechan Park, and Riley Leroy Pitts Park (bus shelter)
#