The practice of using chimpanzees in commercials has become taboo in the advertising industry, yet Suburban Auto Group continues to promote its outdated "Trunk Monkey" commercials, which feature young endangered chimpanzees. Chimpanzees, highly intelligent individuals who use tools and mourn their dead, are currently in peril and may face extinction within our lifetime. A number of studies—including two conducted by researchers at Lincoln Park Zoo in Chicago and Duke University—show that the inaccurate portrayal of chimpanzees in commercials hinders conservation efforts and may also increase the demand for these wild animals as "pets."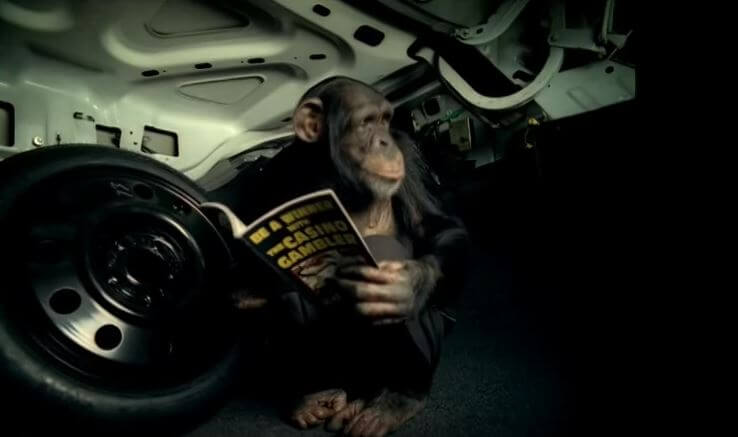 Chimpanzees used in commercials and films were taken away from their mothers shortly after birth, causing psychological harm to both mothers and infants, and physical abuse during training has been well documented. When they reach adolescence at around 7 or 8 years old, they become too strong for humans to handle, so trainers discard them. Last year, the exhibitor Steve Martin's Working Wildlife, which provided two chimpanzees named Eli and Susie for the most recent Trunk Monkey ads, dumped them at Wildlife Waystation, a now-defunct pseudo-sanctuary near Los Angeles. The pair were considered useless to the industry after they'd grown too large.
In fact, Eli and Susie were the last chimpanzees available as "actors," and with their departure from Hollywood, we're finally seeing an end to the exploitation of these sensitive animals for entertainment. Dozens of top advertising agencies—including BBDO, DDB, Ogilvy, Grey, and McCann—have banned the use of chimpanzees and other great apes in their ads for ethical reasons. A number of stock images agencies, including Getty Images, Shutterstock, Dreamstime, and Alamy, recently adopted guidelines regarding the commercial use of images of chimpanzees and other primates in their collections.
Animals are not ours to use for entertainment, and treating them as such supports speciesism—the belief that humans are inherently superior to other animals based solely on species membership. Using the form below, please send a quick, polite note to Suburban Auto Group urging it to follow the lead of other companies by agreeing to pull its "Trunk Monkey" ad campaign and to pledge not to use chimpanzees and other great apes in future ads.
Send polite comments to:
Erinn Sowle
General Manager
[email protected]
Email Erinn Sowle, General Manager
Post Polite Comments on Facebook
Please feel free to use our sample letter, but remember that using your own words is always more effective.