PETA and Medical Experts Demonstrate Life-Like Human Simulators That Talk, Breathe, and Bleed
For Immediate Release:
February 10, 2016
Contact:
Tasgola Bruner 202-483-7382
Washington – It's a real-life military drama: On Wednesday, Gideon Raff—the Emmy Award–winning executive producer of hit TV shows Homeland, Dig, and Tyrant and an Israel Defense Forces combat veteran—joined PETA and honorary hosts Reps. Raúl Grijalva (D-Ariz.) and Ted Lieu (D-Calif.) to lead a standing-room-only congressional briefing on modernizing medical training in the U.S. military. Rep. Lieu, a lieutenant colonel in the U.S. Air Force Reserves, delivered opening remarks at the event, and medical experts explained how realistic and cost-effective human simulators can replace archaic methods in which thousands of live animals are shot, stabbed, and killed each year.
Raff told attendees that he recently became a U.S. citizen. He said it was one of the happiest days of his life because he loves the United States and the military personnel who work "around the clock to protect it." Raff and Rep. Lieu this week wrote a USA Today opinion piece about this important issue.
"Sparing animals pain and death in training drills and instead using modern human simulators means that the military personnel will receive better medical training and ultimately better care if they are wounded on the battlefield," Raff told those gathered. "It will make our Army stronger, more in line with our shared values, and it's also quite simply the right thing to do."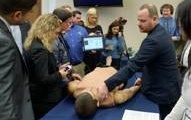 Hands On: During the briefing Gideon Raff shows attendees a simulator that can replace the use of live animals.
"Shooting, stabbing, and dismembering thousands of live animals is a cruel, wasteful, and inferior way to prepare service members to treat human patients," says PETA Director Justin Goodman. "Gideon Raff is helping PETA show Congress firsthand how modern human simulators that talk, breathe, and bleed teach lifesaving skills more thoroughly, more cost-effectively, and far more humanely than maiming pigs and goats."
Expert medical panelists at the event included Dr. Anahita Dua, a researcher in military and civilian trauma treatment, and Dr. Marion Balsam, a retired rear admiral in the U.S. Navy Medical Corps and a former commander of the Naval Medical Center Portsmouth. The event also included hands-on demonstrations of strikingly life-like human-simulation technology designed specifically for military training.
Congress is currently considering the Battlefield Excellence through Superior Training (BEST) Practices Act (S. 587/H.R. 1095)—a bipartisan bill cosponsored by Reps. Grijalva and Lieu—which would phase out the use of animals in military medical training in favor of the simulation methods used by nearly 80 percent of the U.S.' NATO allies and more than 98 percent of U.S. civilian-trauma courses.
The briefing followed a video exposé by PETA released in 2015 that revealed the abuse of animals and soldiers by a leading military medical-training contractor.
Photos and broadcast-quality video footage are available upon request. For more information, please visit PETA.org or click here.