For Immediate Release:
September 22, 2023
Contact:
Tasgola Bruner 202-483-7382
Norfolk, Va. – Destroy killer robots with carrot bombs and bowling balls and liberate mice and monkeys from laboratories before they're used in painful experiments—that's the mission in Bunny Raiders, PETA's newest game for PlayStations (PS) 4 and 5, which is free to play and rated E10+ with online play for up to four people. The Bunny Raiders are a brave band of animal defenders sworn to protect their fellow sentient beings from the clutches of the experimentation industry. Their motto: "No One Is Left Behind." Watch game trailer here.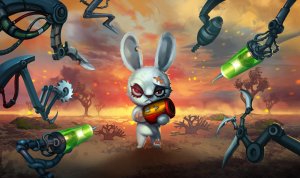 "Frightened and confused animals are tormented, mutilated, and killed in cold, barren laboratories every day, with no way to escape or even understand what's happening to them," says PETA Senior Vice President Joel Bartlett. "PETA's Bunny Raiders lets gamers fight for animal liberation and motivates them to join our call for a switch to superior, non-animal research."
The missions in Bunny Raiders are based on real experiments, including the forced swim test—in which vulnerable small animals are placed into inescapable cylinders of water and compelled to swim out of terror of drowning—and the monkey fright experiments conducted by National Institutes of Health experimenter Elisabeth Murray, who cuts open monkeys' skulls, suctions out a portion of their brain, and then terrifies them with plastic spiders and snakes.
Bunny Raiders was created by game designer and developer Luc Bernard in collaboration with PETA. He was profiled by The New York Times for his groundbreaking virtual Holocaust museum in Fortnite and by The Guardian for his free, educational video game about the Holocaust called The Light in the Darkness. He's also the talent behind PETA's popular PS4 game Kitten Squad.
PETA—whose motto reads, in part, that "animals are not ours to experiment on"—opposes speciesism, a human-supremacist worldview. For more information on PETA's investigative newsgathering and reporting, please visit PETA.org, listen to The PETA Podcast, or follow the group on X (formerly Twitter), Facebook, or Instagram.