For Immediate Release:
September 5, 2023
Contact:
Nicole Perreira 202-483-7382
Toledo, Ohio – Because Starbucks admits that animal-friendly vegan milks are better for the planet but insists on charging extra for them, PETA supporters will gather outside the chain's KeyBank location on N. Summit Street on Thursday to intercept would-be customers with free RISE Brewing Co. oat milk lattes. The push for passersby to avoid the coffee chain comes after nearly 150,000 PETA supporters asked the company to end its vegan milk upcharge.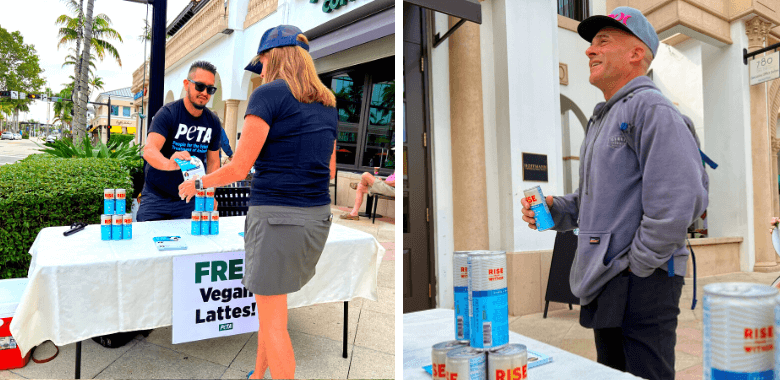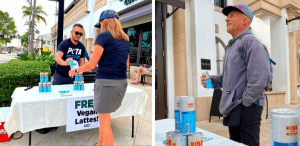 A PETA supporter hands out free vegan lattes outside a Starbucks location.
When:             Thursday, September 7, 11 a.m.
Where:           Outside the exterior entrance to the KeyBank Starbucks store, 303 N. Summit St., Toledo (See the Google Maps link here.)
"Starbucks is counting its beans when it should be counting the number of customers it will lose if it doesn't end the vegan milk upcharge," says PETA Executive Vice President Tracy Reiman. "People who choose to drink responsibly for the sake of animals or their own health or because they know that dairy farming is fueling the climate catastrophe are angry with the company for placing profits above ethics."
PETA has held vegan coffee drink giveaways outside Starbucks locations in Boston; Cincinnati; New York City; Philadelphia; Sacramento, California; and numerous other cities. The group also hit Chicago's Starbucks Reserve Roastery with a sit-in on its opening day and held a glue-in at another location in Chicago, during which a Buddhist monk superglued his hand to the café counter.
PETA—whose motto reads, in part, that "animals are not ours to eat or abuse in any way"—opposes speciesism, a human-supremacist worldview, and offers a free vegan starter kit on its website.
For more information, please visit PETA.org, listen to The PETA Podcast, or follow the group on Twitter, Facebook, or Instagram.