Update (June 16, 2022): After spending over an hour superglued to the café counter at a downtown Chicago Starbucks to make the point that the company needs to stop discouraging people from taking animal- and Earth-friendly action by charging extra for vegan milks, two PETA supporters, including a Buddhist monk in traditional robes, were arrested and are being charged with criminal trespassing.
BREAKING: Officers have arrested two PETA supporters, including a Buddhist Monk, after supergluing their hands to @Starbucks counters in #Chicago for profiting off of the exploitation and abuse of baby cows and their mothers! pic.twitter.com/uyiZOuvJzm

— PETA – #Save3000EnvigoBeagles (@peta) June 15, 2022
Until Starbucks stops charging extra for vegan milks, PETA will continue brewing up pressure for the company by hosting passionate demonstrations and urging its customers to ditch dairy. Join hundreds of thousands of kind consumers in calling on the company to drop its dairy-free milk upcharge today:
Originally published June 15, 2022:
In a valiant act of civil disobedience, a Buddhist monk has joined PETA to protest Starbucks' vegan upcharge by supergluing his hand to the café counter at a Starbucks store in Chicago. This bold demonstration will serve as a reminder to the chain that until it stops charging extra for the vegan milks it agrees are better for the planet, PETA will keep shouting our message.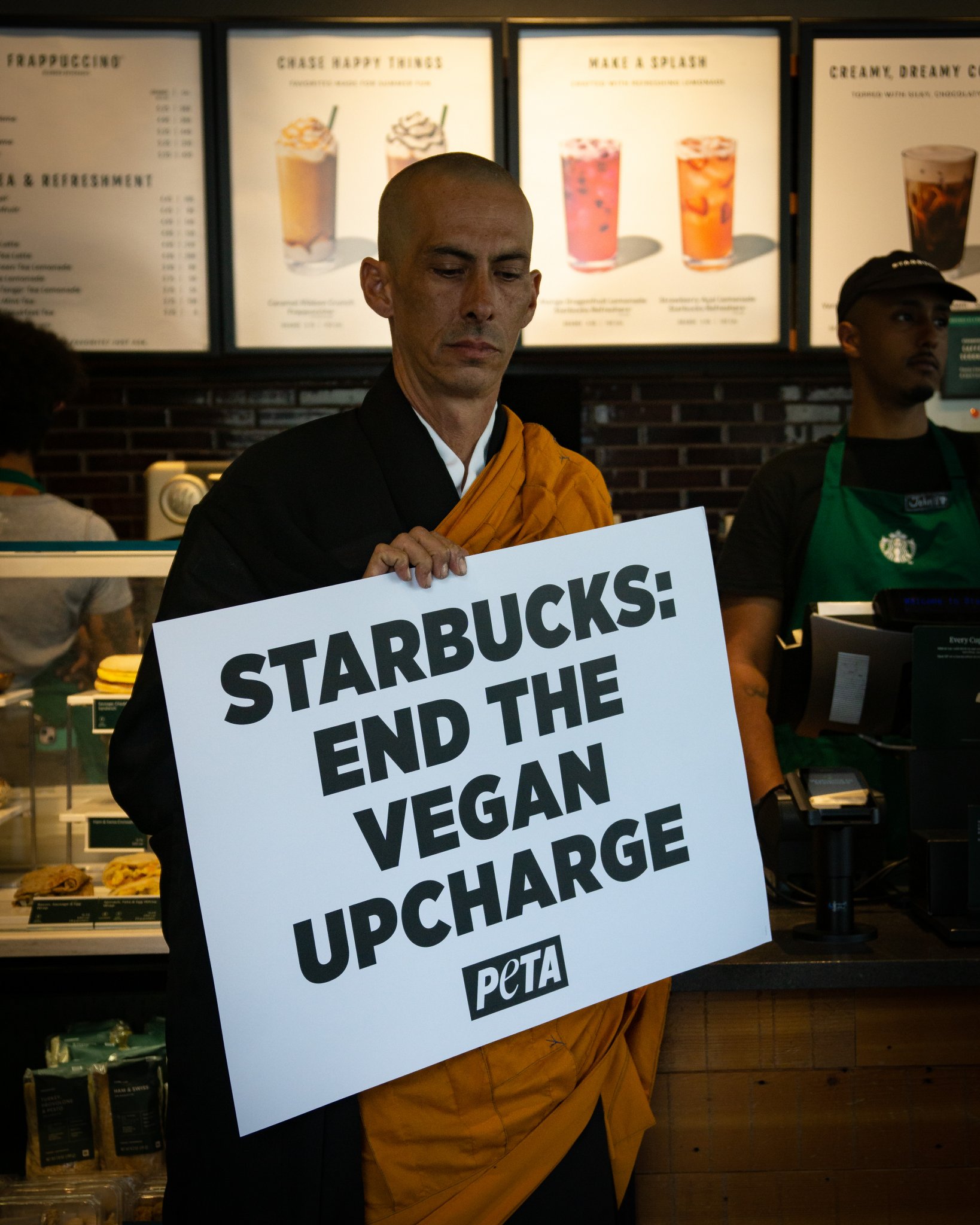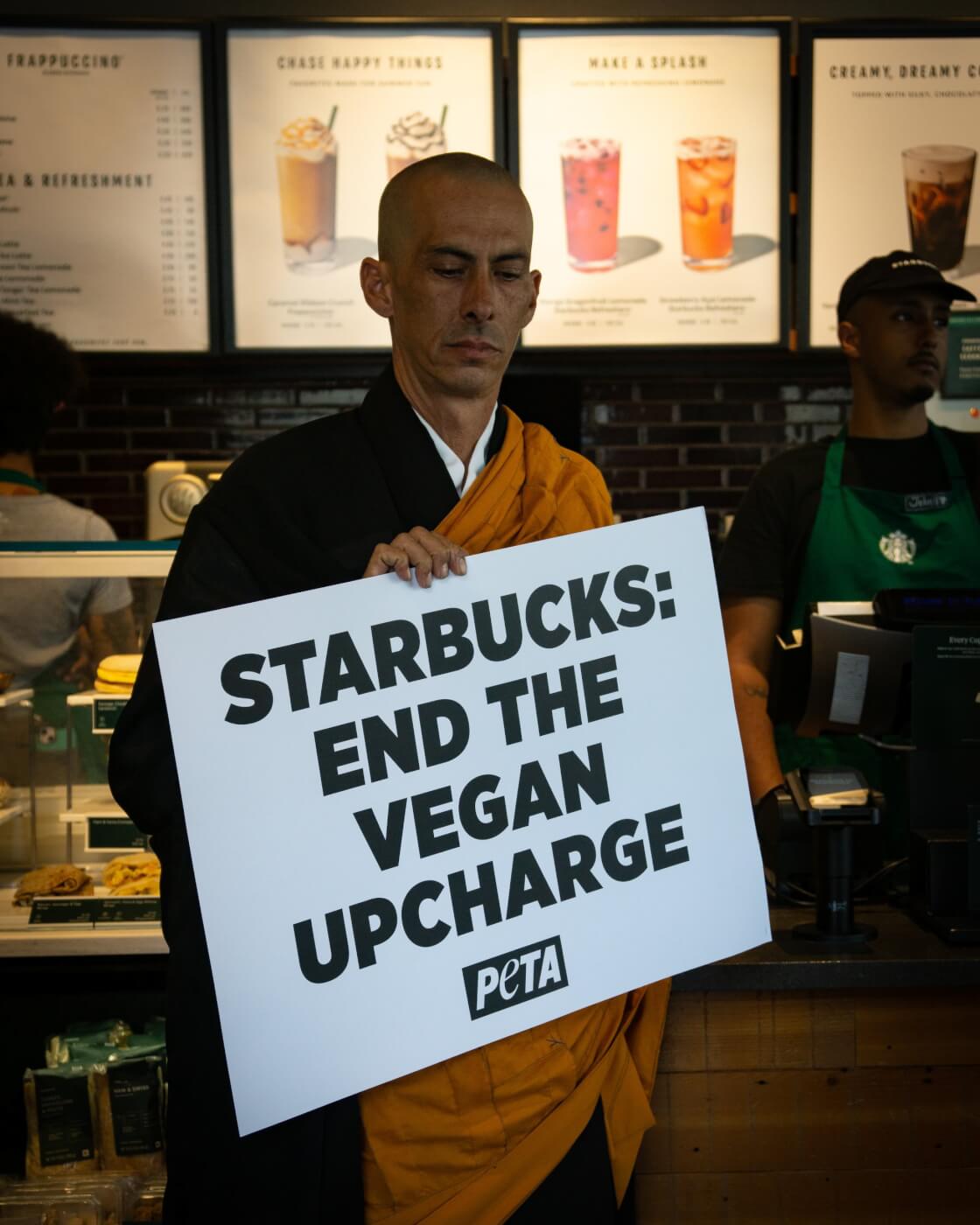 PETA's said it many times before: Customers shouldn't have to pay the price for choosing vegan milks over cruel, unsustainable dairy products. The dairy industry forcibly impregnates cows, takes babies away from their mothers shortly after birth, and then sends mother cows to slaughter once their bodies have given out after repeated grueling pregnancies.
A @Starbucks patron in #Chicago threw water on a peaceful PETA supporter for protesting the unjust #vegan milk upcharge at the company.

The activist was undeterred, saying, "Violence breeds violence… and peace begins on your plate." pic.twitter.com/W1ZEeoUaAK

— PETA – #Save3000EnvigoBeagles (@peta) June 15, 2022
In addition, milk stolen from cows has a devastating environmental impact: One study estimates that producing dairy milk creates around three times more greenhouse gases than producing vegan milks. Starbucks itself has pointed out that cow's milk is the biggest contributor to the company's carbon footprint, and even encourages customers to choose non-dairy milks to help the environment—while hypocritically still charging extra for them.
PETA supporters—including Succession actor James Cromwell—have held glue-ins at multiple Starbucks locations in bustling cities across the country, but that's not the only way we're sticking it to the chain. We've bought stock in the company to take our requests straight to the board room, and we've even enlisted Sir Paul McCartney to send a message to the former and current Starbucks CEOs. Learn more about our intense, far-reaching campaign:
You can help push Starbucks to do right by our fellow animals, the planet, and consumers by telling the company that you're tired of being charged extra for vegan beverages: